Foundations of Technology and Learning
by Grace Laliberte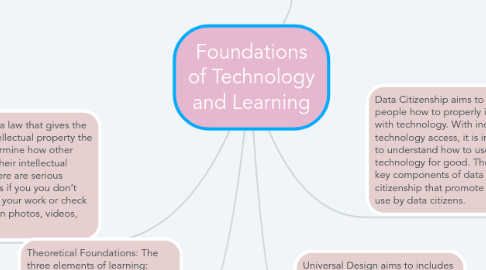 1. Copyright is a law that gives the owner of intellectual property the right to determine how other people use their intellectual property. There are serious repercussions if you you don't properly cite your work or check usage laws on photos, videos, quotes, etc.
2. Theoretical Foundations: The three elements of learning: behaviorism, cognitivism, and constructivism. Everybody learns differently so it is important to offer different modes of learning
3. Universal Design aims to includes the widest group of users possible. This promotes inclusion. There are 3 guiding principles and a 7 step process to universal design
4. Data Citizenship aims to tech people how to properly interact with technology. With increased technology access, it is important to understand how to use technology for good. There are 9 key components of data citizenship that promote proper use by data citizens.
5. Important practices for a data citizen.
6. Important practices for a data citizen