Communication theories.
by Veronica Salcedo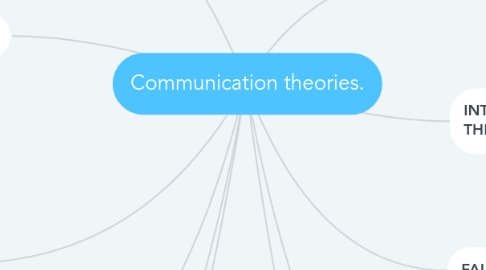 1. SIMBOLIC CONVERGNCE THEORY
1.1. Explains the appareance of a group conciusness, with its implied shred emotions, motives and meanings
1.1.1. Ernest Bormann.
1.2. when a group of students spend a lot of time together, they begin to share the same musical tastes and motivations.
2. INTERPERSONAL DECEPTION THEORY
2.1. explains the way in which individuals engaged face-to-face communication deal with, on conscious and subconscious levels.
2.1.1. Judee K. Burgoon.
2.2. when a seller tries to convince you that you need a product.
3. FALSIFICATION
3.1. explains a that all theory cant be criticized or refuted, although even if it is significant. if it cannot be faked, it can be considered true, even if it cannot be empirically proven
3.1.1. Karl Popper
3.2. the theory of Newton in its beginnings could not be tested, but time proved it as true
4. SOCIOCULTURAL THEORY
4.1. explain how individual mental functioning is related to cultural. and the sociocultural on the roles that participation in social interactions and culturally.
4.2. when a man participates in his community and daily events
5. ACCOMODATION THEORY
5.1. when the people adjust their communication styles to others. through two ways, divergence and convergence
5.1.1. Howard Giles
5.2. when a student has an important presentation, he changes his vocabulary for a more sosfiticado
6. RETHORICAL THEORY
6.1. explain how people communicates by persuading people
6.2. a lecturer makes a living persuading people with what he teaches them
7. ADAPTATIVE STRUCTURE THEORY
7.1. groups and organizations create rules and resources which are defined as structure.
7.1.1. Anthony Giddens
7.2. when a student of school changes his structure by speaking to get into to university for the rules of the society demands
8. CRITICAL THEORY
8.1. it is held that empiricalstudy and philosophical analysis should e brought together to form a detailed, beside the normative basis for the critique should be founded on the needs, longings and moral demans
8.2. when a girl defends an ideology, with facts, right reasons and passion
9. FACE NEGOTIATION THEORY
9.1. explains how cultural difference in people influence in managing conflicts,The theory holds up the idea of maintaining a face according to their cultures.
9.1.1. Stella Ting-Toomey
9.2. a person who has emigrated from his country will act and avoid conflicts in the new country
10. THE THEORY OF LIMITED EFFECTS
10.1. explain the people are manipulated for the media and we think that the media doesnt impact
10.1.1. Paul Lazarsfeld
10.2. when I want to buy a new dress, although I don't usually wear it just because I see a lot of propaganda about it
11. SEMIOTIC THEORY
11.1. Explain how the people interpret the signs around them.
11.2. when a person understands that you are uncomfortable because of the way you are seat or speak