ENGLISH enhancement lesson for Perlis Imams
by Anis Aiman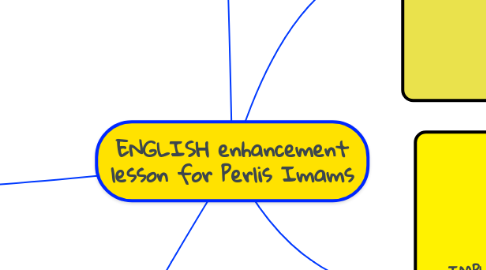 1. - Rural
2. DEVELOP
2.1. VALIDATION
2.1.1. - We need to validate the courses offered to meet the Imams' purposes to learn English.
2.2. PILOT TEST
2.2.1. - Do a test run, by teaching these courses, to acquire feedback and observations to make final adjustments.
2.3. MATERIALS
2.3.1. - Books
2.3.2. - Printed materials
2.3.3. - Audio equipments
3. IMPLEMENT
3.1. PARTICIPATION ENGAGEMENT
3.1.1. - After the workshop, these selected individuals will be exposed to the newly made learning resources for the Imams.
3.2. PREPARATION
3.2.1. - Establish a platform to train selected and qualified individuals as teachers or facilitators in a workshop.
3.2.2. - These individuals can be teachers from other schools or tutors.
3.3. TOOLS IN PLACE
3.3.1. - Every tools are in perfect condition
3.3.2. - Prepare a back-up plans and extra materials
4. EVALUATE
4.1. FORMATIVE EVALUATION
4.1.1. - We need to make sure the learning resources meet the standards from the Design phase before implementation begins.
4.1.2. - Confirm that every step in ADDIE contribute to the effectiveness of the instructional design.
4.2. SUMMATIVE EVALUATION
4.2.1. - This will be conducted after the program is over and there are three levels
4.2.1.1. Level 1: Perception, how satisfied the Imams are
4.2.1.2. Level 2: Learning, how much have the Imams learned
4.2.1.3. Level 3: Performance, measuring of the the transfer of new acquired knowledge and skills to an actual working environment.
5. ANALYSIS
5.1. GOALS
5.1.1. - To make sure the Imams able to master English despite of their difficulties.
5.1.2. - To erase all stereotypes towards the group of religious people.
5.1.3. - To ensure that the Imams able to communicate and use English in various ways in their daily life.
5.1.4. - To socialize with people nowadays who are advanced and preferably use English in their daily conversations.
5.1.5. - To attract foreigners and youngster going to the mosque and learn.
5.2. CHARACTERISTICS OF LEARNERS
5.2.1. ADULTS
5.2.2. ACQUISITION PROCESS SLOW
5.3. RESOURCES
5.3.1. RESOURCES
5.3.2. ARTICLES
5.3.3. TRANSLATED HOLY TEXTS
5.4. - Time
5.5. ENVIRONMENT
6. DESIGN
6.1. LEARNING OBJECTIVES
6.1.1. -To equip tthe imam with a better understanding in English
6.1.2. -Use the language widely in speeches and preaches.
6.1.3. -Able to read English texts and translate them.
6.1.4. -Able to communicate in English with other people confidently and fluently.
6.2. a) Delivery format - Verbally, create a friendly and low stress setting - using text based material - audio
6.3. INSTRUCTIONAL STRATEGIES
6.3.1. b) Activities - Reading text - Memorize English words - Public speaking - Listening - Daily conversations - Ask questions and reflections
6.3.2. c) Exercise - Tranlation from the Holy Texts - Repetition - Reading