A Psychologist's Formula for Shaking Off a Bad Mood
by Danny Forest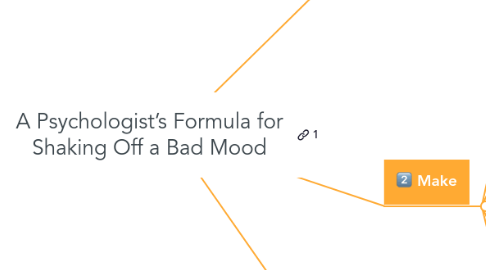 1. Move
1.1. Do physical activity and exercise
1.2. A few quick push-ups first thing in the morning can do wonders to dispel grogginess and fatigue.
1.3. Getting up from your desk and going for a walk around the block can help with the midday slump.
1.4. Taking the kids for a walk to the park can be a quick way to de-escalate the stress and frustration of parenting.
2. Make
2.1. Human beings are wired to make stuff.
2.2. When we don't, we're giving up one of our most powerful mechanisms for feeling good.
2.3. Look for small opportunities to make something, fix something, or simply clean something up.
2.4. Bake some cookies, or declutter your desk, or trim the roses
2.5. There's satisfaction in seeing the results of your labor in such a tangible way.
3. Meet
3.1. We were born to connect to the people closest to us.
3.2. Be in the presence of someone you love
3.3. Look for small ways to reach out and connect with someone