CURRICULUM DEVELOPMENT
by Mary Naranjo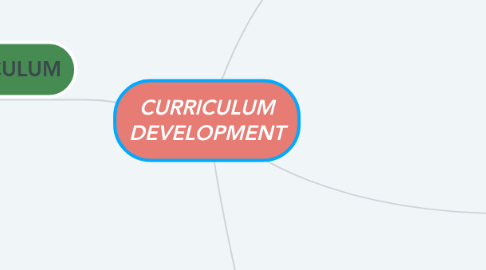 1. REVOLVES ABOUT A PARTICULAR SUBJECT MATTER
2. CURRICULUM DEVELOPMENT
2.1. SELECTING, ORGANIZING, EXECUTING AND EVALUATING LEARNING EXPERIENCES ON THE BASIS ON THE NEEDS, ABILITIES AND INTERESTS OF LEARNERS.
2.2. HISTORY
2.2.1. SABER-TOOTH CURRICULUM
2.2.1.1. THE PURPOSE OF TEACHING WAS SURVIVAL.
2.3. DEVELOPERS
2.3.1. PEOPLE WHO PLAN, DESIGN, AND PRODUCE A CURRICULUM
2.4. LEVELS
2.4.1. NATIONAL LEVEL
2.4.1.1. EXPERTS OF PARTICULAR DISCIPLINES FROM VARIOUS INSTITUTIONS ACROSS THE COUNTRY
2.4.2. STATE LEVEL
2.4.2.1. PRINCIPALS, COORDINATORS, SCHOLARS.
2.4.3. SCHOOL SYSTEM LEVEL
2.4.3.1. MODIFICATION AND IMPROVEMENT OF GOALS
2.4.4. BUILDING LEVEL
2.4.4.1. DISCIPLINE POLICIES FOR A PARTICULAR INSTITUTION
2.4.5. TEACHER TEAM LEVEL
2.4.5.1. TEACHERS DEVELOPING A UNIT
2.4.6. INDIVIDUAL TEACHER LEVEL
2.4.6.1. THE TEACHER DECIDES THE LEARNING OBJECTIVES AND METHODOLOGY
2.4.7. CLASSROOM LEVEL
2.4.7.1. DISCUSS WITH THE STUDENTS HOW TO TEACH ANY PARTICULAR TOPIC.
3. TYPES OF CURRICULUM
3.1. SUBJECT BASED CURRICULUM
3.2. TEACHER CENTERED CURRICULUM
3.2.1. THE TEACHER IS THE CENTER OF INTEREST
3.2.1.1. ROLES
3.2.1.1.1. IMPLEMENTERS
3.2.1.1.2. ADAPTERS
3.2.1.1.3. DEVELOPERS
3.2.1.1.4. RESEARCHES
3.3. LEARNER CENTERED CURRICULUM
3.3.1. THE CURRICULUM IS ACCORDING TO THE NEEDS AND INTERESTS OF LEARNERS
3.4. EXPERIENCE CURRICULUM
3.4.1. ACTIVITY IS A MEAN OF IMPARTING KNOWLEDGE
3.5. INTEGRATED CURRICULUM
3.5.1. UNIFICATION OF ALL SUBJECTS AND EXPERIENCES
3.6. CORE CURRICULUM
3.6.1. NECESSARY GENERAL EDUCATION FOR STUDENTS
3.7. BOARD FIELD CURRICULUM
3.7.1. COMBINES TWO OR MORE RELATED SUBJECTS
3.8. HIDDEN CURRICULUM
3.8.1. LEARNINGS CHILDREN DERIVE FROM THE DESIGN OF THE SCHOOL.
4. TYPES OF CURRICULUM
4.1. FORMAL
4.1.1. FORMAL INSTRUCTION OF THE SCHOOLING EXPEREINCE
4.2. INFORMAL
4.2.1. ACTIVITIES OUTSIDE THE TIMETABLED CURRICULUM
4.3. HIDDEN
4.3.1. WHAT IS NOT TAUGHT
4.4. ACTUAL
4.4.1. FORMAL AND INFORMAL SYLLABUSES