JOINT VENTURES
by Maria Camila Bolaño Briñez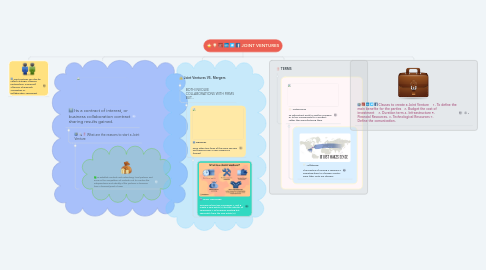 1. Joint ventures can also be called Strategic Alliances, Partnerships, Comerciall Alliances, Shares Risk Assosiation or Collaboration Agreement
2. Its a contract of interest, or business collaboration contract sharing results gained.
2.1. What are the reasons to start a Joint Venture
2.1.1. To establish contacts and networking, local partners and acces in the competition of markets.And to mantain the independence and identity of the partners in business from a financial point of view.
3. Clauses to create a Joint Venture 1. To define the main benefite for the parties 2. Budget the cost of investment 3. Duration term 4. Infraestructure 5. Financial Resources. 6. Technological Resources 7. Define the comunication.
4. Joint Ventures VS. Mergers
4.1. BOTH INVOLVE COLLABORATIONS WITH FIRMS BUT...
4.1.1. MERGERS Form when two firms of the same size join and become one; a new company is formed.
4.1.1.1. JOINT VENTURES Scenario where two companies A and B create a new entity (C) but the identity of companies A nd B remain existing but separately from the new entity (C).
5. TERMS
5.1. - Outsourcing To subcontract work to another company or to buy components for a product rather than manufacturing them
5.1.1. - Offshoring The practice of moving a company's operating base to a foreign country were labor costs are cheaper.