4 Steps to Managing a Highly Effective Remote Team
by Danny Forest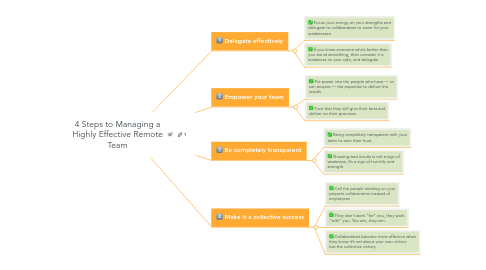 1. Delegate effectively
1.1. Focus your energy on your strengths and delegate to collaborators to cover for your weaknesses.
1.2. If you know someone who's better than you are at something, then consider it a weakness on your side, and delegate
2. Empower your team
2.1. Put power into the people who have — or can acquire — the expertise to deliver the results.
2.2. Trust that they will give their best and deliver on their promises.
3. Be completely transparent
3.1. Being completely transparent with your team to earn their trust.
3.2. Showing bad results is not a sign of weakness; it's a sign of humility and strength.
4. Make it a collective success
4.1. Call the people working on your projects collaborators instead of employees
4.2. They don't work "for" you, they work "with" you. You win, they win.
4.3. Collaborators become more effective when they know it's not about your own victory but the collective victory.