ROLES, FUNCTIONS AND RESPONSIBILITIES BEING A TOUR GUIDE Jose Andres Marin
by jose alape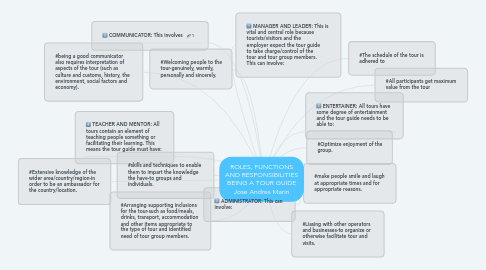 1. MANAGER AND LEADER: This is vital and central role because tourists/visitors and the employer expect the tour guide to take charge/control of the tour and tour group members. This can involve:
2. COMMUNICATOR: This involves
3. #Welcoming people to the tour-genuinely, warmly, personally and sincerely.
4. #being a good communicator also requires interpretation of aspects of the tour (such as culture and customs, history, the environment, social factors and economy).
5. #The schedule of the tour is adhered to
6. #All participants get maximum value from the tour
7. TEACHER AND MENTOR: All tours contain an element of teaching people something or facilitating their learning. This means the tour guide must have:
8. #Extensive knowledge of the wider area/country/region-in order to be an ambassador for the country/location.
9. #skills and techniques to enable them to impart the knowledge the have-to groups and individuals.
10. ENTERTAINER: All tours have some degree of entertainment and the tour guide needs to be able to:
11. #Optimize enjoyment of the group.
12. #make people smile and laugh at appropriate times and for appropriate reasons.
13. ADMINISTRATOR: This can involve:
14. #Arranging supporting inclusions for the tour-such as food/meals, drinks, transport, accommodation and other items appropriate to the type of tour and identified need of tour group members.
15. #Liasing with other operators and businesses-to organize or otherwise facilitate tour and visits.