Lecture 8 Mar 19
by Steve Koch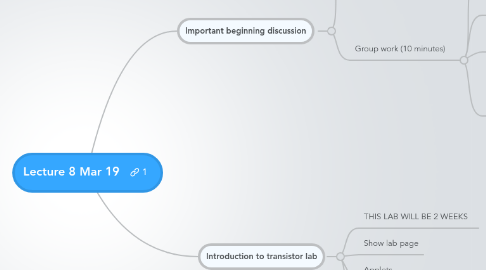 1. Important beginning discussion
1.1. Grounding of TDS1002 oscilloscope w/ full-wave bridge
1.2. Group work (10 minutes)
1.2.1. How to deal with the grounding problem?
1.2.2. We WANT to measure the voltage difference across two points, neither of which is ground
1.2.3. There are lots of answers, so try to come up with a few
1.2.4. Results
1.2.4.1. Can we use the DAQ board in differential mode? (Possibly...if in differential for real)
1.2.4.2. Use a different oscilloscope
1.2.4.3. Traditional solution: Channel 2-1.
2. Introduction to transistor lab
2.1. THIS LAB WILL BE 2 WEEKS
2.2. Show lab page
2.3. Applets
2.4. First steps