IAS 37 PROVISIONS, CONTINGENT ASSESTS AND LIABILITIES
by Katerin Guerra Jerez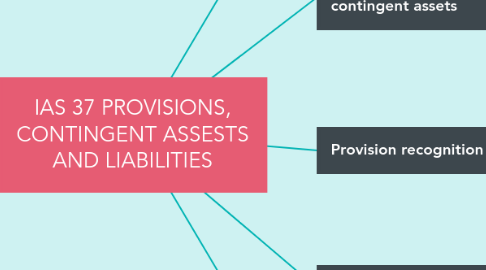 1. Definitions
1.1. Provision: liability in which there is uncertainty about its amount or maturity
1.2. Contingent liability: Possible obligation arising from past events
1.3. Contingent asset: possible asset as a result of past events whose existence must be confirmed only by the occurrence or not of future events.
2. Provision recognition
2.1. The entity has a legal or implicit obligation as a result of a past event
2.2. Resources are likely to be released to settle the obligation
2.3. A reliable estimate of the timing of the obligation can be made
3. Recognition of liabilities and contingent assets
3.1. Contingent liability
3.1.1. The entity should not recognize a contingent liability
3.2. Contingent asset
3.2.1. The entity must recognize a contingent asset
4. Future loss of operations
4.1. Provisions are not recognized for this concept since they do not meet the definition of a liability or the criteria for recognizing provisions.
5. Restructuring
5.1. The recognition of provisions for restructuring can only be recognized when
5.1.1. Have a detailed formal plan to carry out the restructuring in which they are identified
5.1.2. A real expectation of restructuring has been created
5.1.3. Value of the provision will only include the estimated disbursements of said restructuring