Biodegradation of dicofol by Microbacterium sp. D-2 isolated from pesticide-contaminated agricultural soil
by Natalia Vega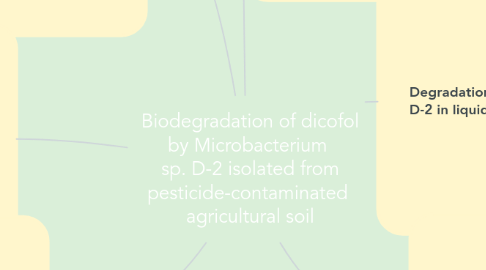 1. Materials and methods
1.1. Chemicals Dicofol (98%, powder) stock solutions of dicofol (10 g/L) was prepared in dimethyl sulfoxide. Methanol and acetonitrile (HPLC-grade)Ethyl acetate and all other reagents
1.2. Culture media Medium for bacterial culture: Luria–Bertani (LB) medium contained (g/L): tryptone 10.0, yeast extract 5.0 and NaCl 10.0, pH 7.0. Medium for degradation experiment: Te mineral salts medium (MSM) contained (g/L): NH4NO3 1.0, K2HPO4 1.5, KH2PO4 0.5, NaCl 0.5, MgSO4 0.2, pH 7.0. All the medium were sterilized by autoclaving at 121.3 °C for 30 min.
2. Isolation and identifcation of dicofol‑degrading strain
2.1. Soil samples, collected from Jingxian City, Anhui Province, where tea was grown and DCF was applied. Five grams of soil sample was inoculated into MSM medium (100 mL in fasks) amended with 50 mg/L DCF and the culture was incubated at 30 °C at 180 rpm for 7 days. One milliliter of enrichment culture was transferred into fresh MSM medium at regular intervals of 1 week. Highperformance liquid chromatography (HPLC) was used to determine dicofol and confrm degradation. Te enrichment culture was serially diluted and spread on MSM plates containing 50 mg/L DCF, then cultivated at 30 °C for 3 days. Te colonies thus isolated were further purifed by the streak plate method.
3. Degradation of dicofol by strain D‑2 in liquid culture
3.1. Strain D-2 was cultured to exponential phase in LB medium, and then collected by centrifugation at 6000 g for 5 min at room temperature. Te cell precipitation was washed twice with sterilized MSM and adjusted to approximately 2×108 CFU/mL. For the degradation experiments in liquid culture, the cells were inoculated to approximately 1×107 CFU/mL. Degradation experiment was carried out in 100 mL MSM containing 50 mg/L DCF. Te culture was incubated at 30 °C at 180 rpm for 24 h after inoculation of the strain. Set DCF at two diferent concentrations (20 mg/L and 80 mg/L) in the MSM, following the above method to analyze the degradation of DCF at diferent concentrations by strain D-2
4. Growth of strain D‑2 in MSM culture
4.1. Diluents ranging from 10−4 to 10−1 were obtained by tenfold gradient dilution. According to dilution plate counting method, 0.2 mL diluent was spread on LB plate and cultured at 30 °C for 48 h. Plates with a colony number from 30 to 300 were selected for counting. All samples were in triplicate.
5. Extraction and HPLC detection of dicofol
5.1. Cultures were regularly sampled for the determination of the concentrations of DCF and cell growth with every 12 h, 2 mL each time. Tree volumes of ethyl acetate was added to each sample. Te organic phase was retained after an intense mixing for 15 s. Te sample was then dried and re-dissolved with 2 mL methanol.
6. Results and discussion
6.1. Only a few publications have reported the microbial degradation of DCF and the germplasm resources need to be abundant. Trough enrichment culture and serial dilution, spread plating was done to obtain growth in this study. From the colonies, a bacterium capable of degrading DCF was isolated and named strain D-2. Tis strain is gram-positive, positive for catalase and urease activity, negative for hydrolysis of amylum, gelatin, and production of indole. Molecular identifcation was done by 16S rDNA typing.