How do musicians manipulate music elements and concepts to communicate narrative when performing, composing and responding to music?
by K Tassone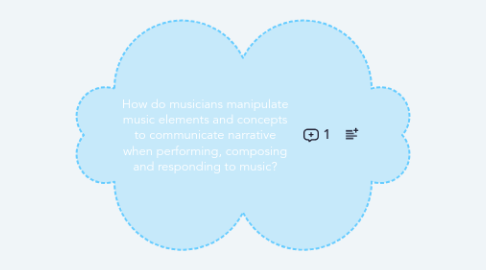 1. Expressive techniques when performing to convey emotion
2. through use of dynamics and pitch to convey the emotional roller coaster of the story
2.1. having multiple layers to show different parts of the story
3. Key Change to develop a piece and give forward motion. or change of theme
3.1. Key Change to develope a piece and give forward motion. or change of theme
4. rhythm can be used to express the emotion the composer is feeling
5. Different timbres can be used to emphasise the narrative. E.g. acoustic instrumentation creates a raw timbre in comparison to electronic instruments
6. Help convey a character, time/place or idea through the use of motif
6.1. That motif can be continued through the story growing when the character does enhancing the progressed
7. changes in tempo and time can be used to convey emotions by dwelling on one motif or move faster through one. this can be done by ritardandos, hold notes, accelerandos, rubato times.
8. use of chordal progressions to drive the story along
9. Using contrast and unity in structure to keep listener engaged while also able to follow the narrative
10. having variety throughout performance and composition so the narrative is clear
11. Volume Dynamics e.g. crescendo, decrescendo, sforzando etc. help to manipulate supporting elements and assist in the telling of the story.
12. Use of silence can create tension and emphasise the narrative's meaning
13. use of certain expressive techniques to portray a certain narrative type
13.1. e.g.
14. innotation between notes can either create suspense or a happy feeling. majors and minors
15. Different tempos and pitches can be used to convey different timbres (moods and emotions)
16. Using free time metre to allow the song to grow adjacent to the character and or story
17. Incorporating traditional instrumentation or language of a culture (for example Africa) such as chanting puts the audience in the setting of the narrative