TRANSITIONS PROJECT
by Tarant Hill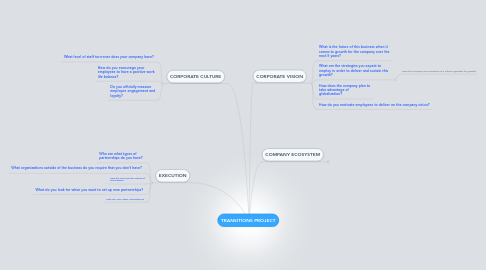 1. CORPORATE VISION
1.1. What is the future of this business when it comes to growth for the company over the next 5 years?
1.2. What are the strategies you expect to employ in order to deliver and sustain this growth?
1.2.1. Does the company view innovation as a critical ingredient for growth?
1.3. How does the company plan to take advantage of globalization?
1.4. How do you motivate employees to deliver on the company vision?
2. COMPANY ECOSYSTEM
2.1. What does the word "Market" mean to you?
2.2. How visible is the company and its strategy in the market?
3. EXECUTION
3.1. Who are what types of partnerships do you have?
3.2. What organizations outside of the business do you require that you don't have?
3.3. How do you view the output of universities?
3.4. What do you look for when you want to set up new partnerships?
3.5. Who are your major competitors?
4. CORPORATE CULTURE
4.1. What level of staff turn-over does your company have?
4.2. How do you encourage your employees to have a positive work life balance?
4.3. Do you officially measure employee engagement and loyalty?