If it's not in my Calendar, I Simply Won't Do it
by Danny Forest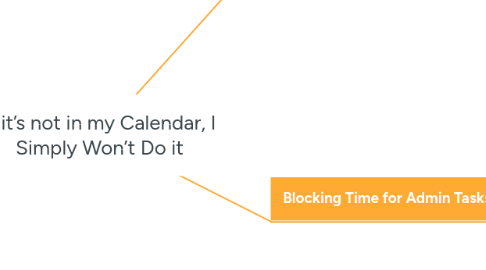 1. Introduction
1.1. There's something about having a set time you have to do your tasks
1.1.1. Your brain doesn't want to leave the task unchecked, however much you don't really want to do it.
1.1.2. If there's something you know you don't want to do, add it to your calendar.
2. Blocking Time for Admin Tasks
2.1. Admin tasks:
2.1.1. Answer messages
2.1.2. Schedule social media posts
2.1.3. Do outreach
2.1.4. Book appointments
2.1.5. Plan
2.1.6. Pay credit cards
2.2. Put the things you've been procrastinating during that time block too.
2.3. Once you reach the end of your admin work block, stop and carry over the stuff you haven't had time to do yet for the next day.
2.4. Put a little more than you think you can do and challenge yourself to do them all.