SWOT Analysis For Klein Bros.
by temiloluwa coker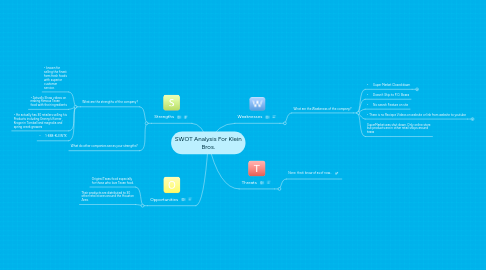 1. Strengths
1.1. What are the strengths of the company?
1.1.1. • known for selling the finest farm fresh foods with superior customer service.
1.1.2. • Actually Show videos on making famous Texan food with their ingredients
1.1.3. • He actually has 30 retailers selling his Products including Granny's Korner, Kroger in Tomball and magnolia and spring creek growers
1.1.4. • 1-888-KLEINTX
1.2. What do other companies see as your strengths?
2. Threats
2.1. None that i know of as of now..
3. Weaknesses
3.1. What are the Weakeness of the company?
3.1.1. • Super Market Closed down
3.1.1.1. New node
3.1.2. • Doesn't Ship to P.O. Boxes
3.1.3. • No search Feature on site
3.1.4. • There is no Reciepe Videos on website or link from website to youtube
3.1.4.1. New node
3.1.5. SuperMarket was shut down. Only online store but products are in other retail shops around texas
4. Opportunities
4.1. Original Texas food especially for those who love Texan food.
4.2. Their products are distributed to 30 other retail stores around the Houston Area.