CHAPTER 5 : MOTIVATION by Raudzoh Radzi
by raudzoh radzi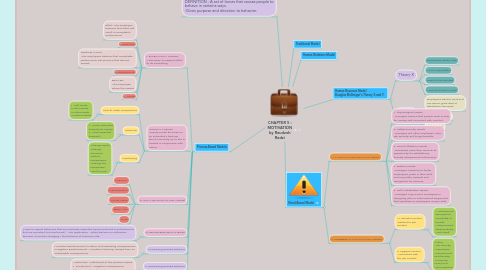 1. DEFINITION : A set of forces that causes people to behave in certains ways. -Gives purpose and direction to behavior.
2. Traditional Model
3. Human Relations Model
4. Human Resorces Model Douglas McGregor's Theory X and Y.
4.1. Theory X
4.1.1. Employees dislike work
4.1.2. Avoid responsible
4.1.3. Need to be directed
4.1.4. Must be forced to work
4.2. Theory Y
4.2.1. Employees want to work and can derive great deal of satisfaction fromwork
4.2.2. Seek responsibility
4.2.3. Self-directed
5. Need-Based Model
5.1. i. MASLOW'S HIERARCHY OF NEEDS
5.1.1. 1. Physiological Needs -Managers assume that people work mainly for money and corcerned with comfort.
5.1.2. 2. Safety/Security Needs -Managers will often emphasize rules, job security and fringe benefits.
5.1.3. 3. Social/Affiliation Needs -Individuals value their work as an opportunity for establishing friendly interpersonal relationship.
5.1.4. 4. Esteem Needs -Managers needs try to foster employees' pride in their work and use public rewards and recognition for services.
5.1.5. 5. Self-Actualization Needs -Managers may involve employees in designing jobs or make special asignments that capitalize on employees unique skills.
5.2. ii. HERZBERG'S TWO-FACTOR THEORY
5.2.1. i. Motivator Factors -Related to job content
5.2.1.1. - Achievement -Recognition -Possibility of Growth -Advancement -Responsibility -Work Itself
5.2.2. ii. Hygiene Factors -Associated with the job context
5.2.2.1. -Salary -Job security -Supervision -Interpersonal Relationship -Company Policy and Administration
6. Process-Based Models
6.1. i. EXPECTANCY THEORY -Motivation to expend effort to do something.
6.1.1. Effort -The employee believes that effort will result in acceptable performance
6.1.2. EXPECTANCY
6.1.3. PERFORMANCE -The employees believes that acceptable performance will produce that desired reward.
6.1.4. INSTRUMENTALITY
6.1.5. REWARD -The employee values the reward
6.1.6. VALENCE
6.2. ii.EQUITY THEORY -Equity model focusses on an individual's feelings about how fairly he or she is treated in comparison with others.
6.2.1. How to make comparison?
6.2.1.1. 1. Self-inside 2.Self-outside 3.Other-inside 4.Other-outside
6.2.2. Outcome
6.2.2.1. A. Under-rewarded (Inequity) B. Equity C. Over-rewarded (Inequity)
6.2.3. Maintaining
6.2.3.1. -Change inputs -Change outcomes -Distort comparisons -Change the comparison -Quit the job
6.3. iii. GOAL SETTING (SMART criteria)
6.3.1. SPECIFIC
6.3.2. MEASURABLE
6.3.3. ACHIEVABLE
6.3.4. RELEVANT
6.3.5. TIME
6.4. iv. REINFORCEMENT THEORY
6.4.1. -Learn to repeat behaviors that are positively rewarded (reinforced) and avoid behaviors that are punished (not reinforced). -The application : called behavior modification because it involves changing r the behavior of someone else.
6.5. i.Increasing Desired Behavior
6.5.1. i. Positive Reinforcement -Positive and rewarding consequences. ii.Negative Reinforcement -Avoidance learning. Escape from an undesirable consequences.
6.6. ii. Decreasing Desired Behavior
6.6.1. i. Extinction -Withdrawal of the positive reward. ii. Punishment - Negative consequences following undesirable behavior.