The 5-Minute 'Shutdown Routine' That Can Improve Your Entire Day
by Danny Forest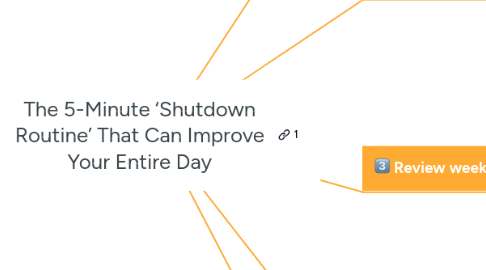 1. De-clutter my desk
1.1. Everything is either put in drawers or filed away, even if I know I'll need it the next day.
1.2. It cues my brain that work is over and it's time to shift out of work mode.
1.3. Having nothing on my desk in the morning makes it less likely that I'll end up procrastinating before getting to work.
2. Review emails and texts
2.1. I scan my inbox and recent text messages to make sure I haven't missed anything that needs immediate action before I leave work.
2.2. So later in the evening, I'll be less likely to wonder if I've left anyone hanging.
3. Review weekly to-dos
3.1. I keep a list of all the tasks and projects I'm working on for the week.
3.2. I briefly scan this and decide if there's anything on it that I want or need to work on the next day.
3.3. This keeps me on track with my weekly goals
3.4. It also assures me that I'm making progress on my longer-term objectives.
4. Set my top three priorities for tomorrow
4.1. I place a sticky note on my desk in front of my computer and jot down the three most important things I want to get done the next day.
4.2. I write them as short bulleted action items and then draw a line underneath them.
5. Set my evening intention
5.1. The final step helps me be more present and relaxed at home.
5.2. Underneath my three next-day work priorities, I write down one or two small intentions I have for my evening.