The 3 Words You Shouldn't Say Right Now
by Danny Forest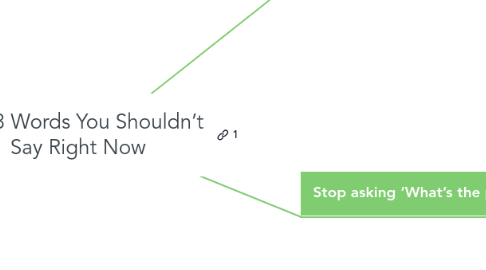 1. 'I'm happy because I'm singing'
1.1. Do our actions determine how we feel? Or do our feelings determine how we act?
1.2. Emotions are caused by our reactions to external events.
2. Stop asking 'What's the point?'
2.1. Your foundational behaviors (like showering and getting dressed) plays a pivotal role in making you feel good
2.2. When you lose those behaviors, you lose the processes that primed you into action and determined your state of being.
2.3. Your commute home from work can act as a trigger, priming your brain to switch from work mode to home mode.
2.4. Working remotely in quarantine means you no longer have that trigger.
2.5. Try to make your days look as they did before the quarantine.
2.6. After your workday, have a ritual that helps you transition into your personal time.