This Simple 5-Minute Evening Habit Will Skyrocket Your Morning Productivity
by Danny Forest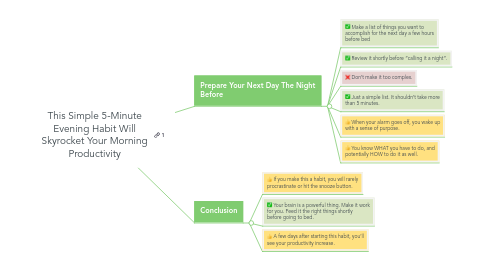 1. Prepare Your Next Day The Night Before
1.1. Make a list of things you want to accomplish for the next day a few hours before bed
1.2. Review it shortly before "calling it a night".
1.3. Don't make it too complex.
1.4. Just a simple list. It shouldn't take more than 5 minutes.
1.5. When your alarm goes off, you wake up with a sense of purpose.
1.6. You know WHAT you have to do, and potentially HOW to do it as well.
2. Conclusion
2.1. If you make this a habit, you will rarely procrastinate or hit the snooze button.
2.2. Your brain is a powerful thing. Make it work for you. Feed it the right things shortly before going to bed.
2.3. A few days after starting this habit, you'll see your productivity increase.