A Simple Yet Powerful Way To Boost Your Confidence According to High Performers
by Danny Forest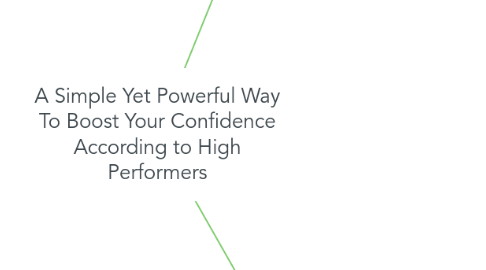 1. Benefits of Having a High Confidence
1.1. When someone is more confident, they consistently have greater:
1.1.1. Clarity/awareness
1.1.2. Energy
1.1.3. Productivity
1.1.4. Influence
1.1.5. Necessity
1.1.6. Courage
1.2. Other important benefits:
1.2.1. Overall happier life
1.2.2. Love for taking on new challenges
1.2.3. Feeling of making a difference in the world
1.2.4. Less likely to burn out from work
1.2.5. More willing to say no
1.2.6. More sure what to focus on
1.2.7. Less prone to distractions
1.2.8. More likely to work out
2. True Way to Raise Your Confidence
2.1. Myth Busted — Self-confidence is not given to you at birth.
2.1.1. It's something you have to build yourself. This should be encouraging for everyone.
2.2. Develop Competence
2.2.1. Think about these simple questions:
2.2.1.1. Were you more confident on your first day of school, or after a few weeks?
2.2.1.2. Were you more confident on your first day at work, or after a few weeks?
2.2.1.3. Were you more confident on your first day at the gym, or after a few weeks?
2.2.2. The three pillars for raising competence: Do more, learn more, reflect more.
2.3. Do More
2.3.1. You should *almost* always tell yourself: "Screw failure".
2.3.2. Experiment in an environment where it's okay to "fail".
2.3.3. Remember, in experimentation, failure doesn't exist.
2.3.4. Good time management goes a long way.
2.3.5. Stewartship delegation is also crucial.
2.4. Learn More
2.4.1. The more you learn, the faster you learn. The faster you learn, the more confident you become.
2.4.2. "Chunks" of knowledge you acquire for a specific skill helps you more quickly assimilate the knowledge required for other skills.
2.5. Reflect More
2.5.1. Have monthly goals and review them at the end of the month.
2.5.1.1. At the end of every month, write down what you want to accomplish for the month.
2.5.1.2. Be precise. Quantify and qualify your goals.
2.5.2. Have weekly reviews.
2.5.2.1. At the end of every week, reflect on what went right, what went wrong, and how you can do better.
2.5.3. Journal frequently.
2.5.3.1. It's so liberating. You get so much clarity. You learn so much about yourself that you didn't even know yourself.
2.5.3.2. Try asking yourself "why" 3, 5, or 7 times. It's eye opening.