How To Get People To Notice You Without Saying a Word
by Danny Forest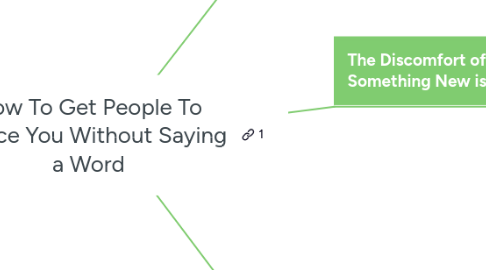 1. If You Do Something Every Day, People Will Start to Notice
1.1. Most people are terrible at consistent daily routines.
1.2. But daily engagement is the only way to become truly successful with a new skill.
1.3. The day you stop practicing daily is the day you start to lose.
2. The Discomfort of Starting Something New is Temporary
2.1. Things get easier when you do them.
2.2. If you can push through that wall in the first few weeks — people will start to notice you. Eventually, people will start coming to you.
2.3. It's going to be tough. There's a reason most people aren't consistent.
2.4. One of the most reliable strategies to combat frustration and despair is simple: imagining your future if you keep going.
2.5. Focus with the end in mind. It'll pull you through the discomfort of starting something new.
3. Just Focus on Running as Fast as You Can in the Right Direction
3.1. Be focused on being good — being more patient, self-confident, and proud of yourself.
3.2. Work hard on yourself
3.3. People start to notice you if you're on the same wavelength as them.
3.4. If you force something, it almost never works out.
3.4.1. Examples: trying to get a promotion before you're ready; getting into relationships that really aren't a good fit.
3.5. Don't try to get the rewards before you've earned it