Desktop Operating Systems
by Librado Acevedo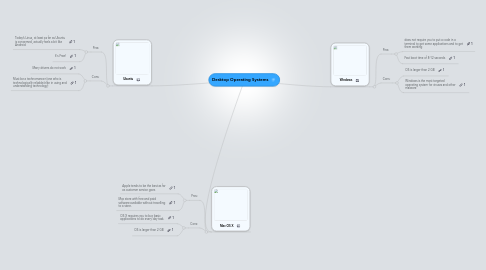 1. Windows
1.1. Pros:
1.1.1. does not require you to put a code in a terminal to get some applications and to get them working
1.1.2. Fast boot time of 8-12 seconds
1.2. Cons:
1.2.1. OS is larger than 2 GB
1.2.2. Windows is the most targeted operating system for viruses and other malware
2. Ubuntu
2.1. Pros:
2.1.1. Today's Linux, at least as far as Ubuntu is concerned, actually feels a bit like Android
2.1.2. It's Free!
2.2. Cons:
2.2.1. Many drivers do not work
2.2.2. Must be a technomancer (one who is technologically reliable/elite in using and understanding technology)
3. Mac OS X
3.1. Pros:
3.1.1. Apple tends to be the best as far as customer service goes
3.1.2. Mac store with free and paid software available without travelling to a store.
3.2. Cons:
3.2.1. OS X requires you to buy basic applications to do every day task.
3.2.2. OS is larger than 2 GB