Habits Are Indeed Powerful, Don't Fall Behind On The Good Ones
by Danny Forest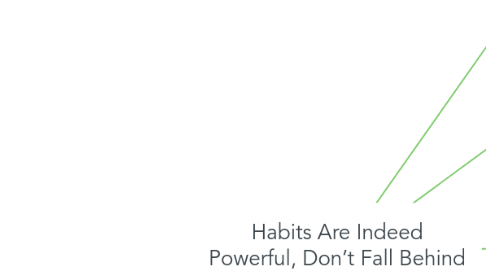 1. Mark Completion Or Non-Completion Of A Habit In A Calendar, Or In An App
1.1. Also note the things you haven't been able to accomplish too.
1.2. Make that calendar visible for other people to see too.
1.3. You don't want to show them you didn't do it. You also don't want to have this "failure" in your face every day.
2. Measure All The Little Things
2.1. Measure every little thing and you'll see progress.
2.2. That's very motivating to keep doing it.
3. Make Your Habits Public, Or Find An Accountability Partner
3.1. If you have a mentor or mentee, share your habits completion with them.
3.2. Phone someone else to be accountable for doing your habits.
4. Perform Your Habits With A Partner
4.1. Perform some or all of your habits with a like-minded person.
4.2. Doing it with someone else is powerful, that's why some people go to the gym together.
4.3. You don't want to let the other person down by not doing it.
5. Don't Let Yourself Be Overwhelmed By The Own Goals You Set Yourself
5.1. Don't make yourself too busy that you can't keep up with your good habits.
5.2. Good habits are good for a sane mental state and ultimately make you more productive.
6. Make Sure You Get Enough Rest
6.1. Rest is very important.