THE ELEMENTS OF CULTURE
by JOHANNA ELIZABETH SORIA GANCHALA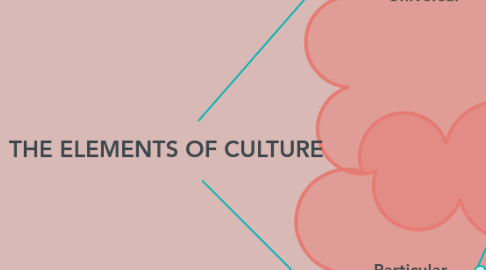 1. Universal
1.1. Values: They are important elements of the culture, as a social behaviour is viewed as partly caused by dominant values and also ideologies.
1.2. Values for children: It is most likely also reflects the respondents' personal values that they will attempt to their own children.
1.3. Behavioral: It can be studied by asking people what they would do in a certain situation.
1.4. Beliefs: They are expressed as agreements or disagreements with some worldviews.
1.5. Attitudes: They are studied by asking people what or whom they like or dislike.
2. Particular
2.1. Taboos: It is an activity or behaviour that is forbidden, prohibited or otherwise outside of what is considered acceptable in society.
2.2. Meanings
2.3. Symbols: Those are objects, words, or action that stands for something else with no natural relationship that is culturally defined.