2009 ARRL SW Division Convention Ex-Chair - Marvin Johnston, KE6HTS
by
Marvin Johnston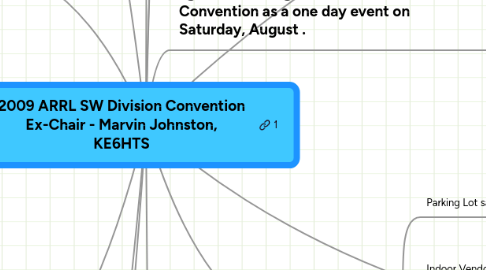 0.0
stars -
0
reviews range from
0
to
5
Budget
Income
Expenses
Marketing
Web
Blog
Website
Flyers
Email
ARRL Hamfest Directory
Word 0f Mouth
SB Section Newsletter
Time Line
Affiliates (participating clubs)
Venue
RV Hookups for Vendors/Exhibitors
Parking Lot
Garden Area
Warren Hall
Activities
Speakers
Demonstrations
Workshops
VE Session CVARC
Indoor Vendors
FleaMarket
Niche Activites
Objectives
Educational
Socializing
An event not to be forgotten
100 indoor and outdoor vendors
1500 Minimum attendance
Interactive
Create a Team to make this an ongoing event
Build for next year
Provide GREAT value!
TODO
Insurance Requirements
Security Requirements
No. of available indoor booths
No. of outdoor fleamarket spaces
Auditorium for VE Session
Get online newsletter editor
Flyer Designed
Pins Designed/Ordered
Patches Designed/Ordered
Conversion to Division Convention
Get Hotel information
Friday Night dinner
Saturday Night Banquet
Saturday Midnight Wouf Houng
QSL Card Verifications
Pins/Patch design
Dept Heads
Vendors - Dino/Rick Whitaker
Emergency Demonstrations - Michael Ditmore
VE Session - CVARC VE Team
Speakers
Fleamarket
Activities
Marketing/Publicity
Vendor Information
Booth
Telephone line available (credit card machines)?
Electricity
Trash Cans
WiFi Access Included
Donate to Raffle?
Hours of Operation
Room Layout Chart
Dates
Parking Lot sales
Indoor Vendors
Banquet Dinner and Keynote Speaker
VE Session
Tesla Demonstraion/Wouff Hong
Software Tools
Project Management ?????
Moodle CMS
5-13-2009 - The SBARC Board of Directors voted to cancel/postpone putting on the 2009 ARRL SW Division Convention for August 15-16, 2009 and downsize to a hamfest. Stay tuned for further information about the Convention.
6-12-2009 - The SBARC Board of Directors voted to rescind last month motion, and will again be hosting the SW Division Convention as a one day event on Saturday, August .