PUNCTUATION MARKS
by Brian Paul Peña Ocampo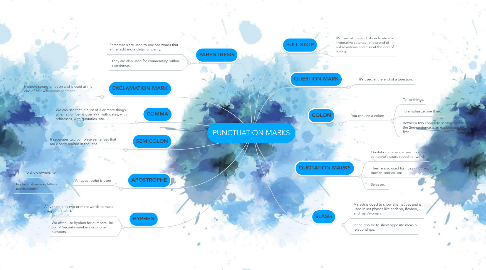 1. FULL STOP
1.1. It's used at the end of declarative or imperative setence, at the end of abbreviations and also at the end of initials.
2. QUESTION MARK
2.1. It's used at the end of a question.
3. EXCLAMATION MARK
3.1. It shows strong emotion and is used at the end of an exclamatory sentence.
4. COMMA
4.1. We can use that in a list of 3 or more things, when a number is over 999, with dates, with addresses, with quotatios, etc.
5. SEMICOLON
5.1. It separates two complete sentences that are closely realted in thought.
6. COLON
6.1. You can use a colon:
6.1.1. To list things.
6.1.2. To emphasize one thing.
6.1.3. Between two complete sentences where the 2nd sentence is an explanation for the first.
7. APOSTROPHE
7.1. An apostrophe is used
7.1.1. To show ownership.
7.1.2. In place of missing letters (contractions).
8. QUOTATION MARKS
8.1. Quotation marks are used to show someone's exact speech or words.
8.2. They're also used for titles of books, movies, stories, etc.
8.3. Sarcasm.
9. PARENTHESIS
9.1. Parenthesis are used to enclose words that either add more detail or clarify.
9.2. They are also used for enumerating within a sentence.
10. SLASH
10.1. A slash is uded to show alternatives and is used in set phases like anda/or, if/when, and man/woman.
10.2. It can also be to show opposite ideas o relationships.
11. HYPHEN
11.1. A hyphen joins two or more words to make compound words.
11.2. We often use hyphen for numbers like Social Security numbers or phone numbers.