Web Community
by
Anthony Smith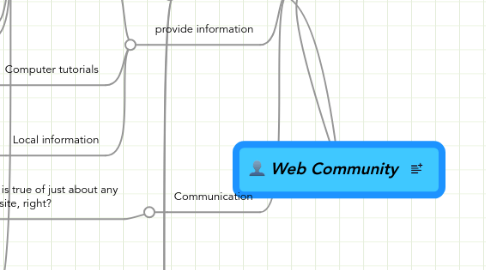 0.0
stars -
0
reviews range from
0
to
5
Web Community
This is just a demo map that you can delete right away, if you feel like it...
Purpose
provide advice
reviews of businesses
New node
general socializing
facebook
myspace
provide information
civil services, roads, bridges, signs, geo-referenced
Computer tutorials, Could define a format, similar to the "for dummies" series of books. Although there are several different authors, they all agree to use a particular format, and the publisher makes sure it meets those criteria.
Local information, There seems to be a vacuum of good local information on the net... or maybe I'm just not looking
Communication
This is true of just about any website, right?
Monetize
micro-payments
extremely small, Limit-approaching, going to the extreme of usability, sacrificing one benefit for another, examples:, Very Low Frequency Power Line Carrier (VLC-PLC) technology used in meter reading, transmits one reading per day, can send data over power lines extremely long distances without repeaters for distance, transformers, capacitors, etc., Twitter, extremely short mesages, quickly communicate with a large number of people over the established SMS network, web, e-mail., low overhead, from what I understand, TERRIBLE programming of the database application though...
two-way
revenue stream, partial to author, revenue could be in the form of "credits" with a monetary value, Could limit withdraws to rounded numbers ($5) increments? Higher?, Revenue based on interest from forced investment..., Imagine just one thousand users with a couple of bucks worth of credits. Those actual dollars would be in the service provider's account earning interest! At just 2% that would add up to like 20 bucks!!, partial to network operator
Alternative to advertisement based revenue, Frees up space normally taken up by adds
Possible supplement to ad revenue, Start out with heavier ad based revenue, then gradually shift to micro-payments
Possible payment methods, paypal, direct credit card payments
Alternative currency, carbon credits, cell phone minutes, airline minutes or miles, subscription minutes, game sites, webkinz, Kids love these game sites. Our girls are on Webkinz world all the time. They have to get codes from the webkinz they buy. Webinz world doesn't have ANY advertising on it. They earn their revenue from the webkinz stuffed animals they sell. The website is actually a main attraction., Could you partner with a game site that traditionally charges a subscription?, digital photo prints, Kilowatt hours (energy), Alternative currency may require a partnership with another company or organization. For instance, to use KWh for an example, a company, or group of companies would have to agree to track and
Advertising Revenue
Google AdWords
Local Advertisers
Strategic advertising partners, Companies that offer a companion service to yours that meshes well, a task pad for instance, as a companion application to your calendar.
Product Placement, Mentioning a service or product in your site. Could be a toughie to sell...
Classic subscription model
users of the service pay per month or year.