ETWINNING GUIDELINES AND REGULATIONS
by betül can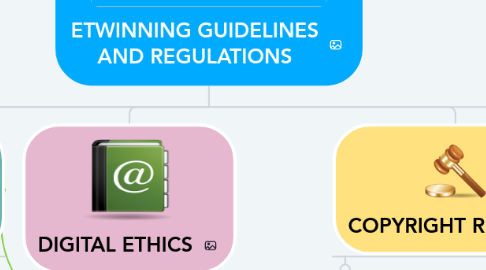 1. COPYRIGHT RULES
1.1. Fair Use
1.1.1. Video
1.2. Creative Commons Website
1.2.1. Creative Common Licences Explanatory Video-1
1.2.2. Creative Common Licences Explanatory Video-2
1.3. Public Domain Websites
1.4. Summary Slide
2. CODE OF CONDUCT
2.1. The EU Values
2.1.1. Human dignity
2.1.2. Freedom
2.1.3. Democracy
2.1.4. Equality
2.2. Rule of Law
2.3. Human rights
2.4. Core Principles
2.5. Be inclusive
2.6. Be respectful
2.7. Be tolerant
2.8. Be polite and friendly
3. E-SAFETY
3.1. Always protect pupils' privacy online. Do's and Don'ts for Teachers
3.1.1. Don't make any grades, any assessment, or any part of a student's educational record public.
3.1.2. Don't show student names on worksheets, ID Number, home address, classroom passwords on Post-its, and profile information on a computer monitor.
3.1.3. Don't show handwriting of a student. You may blur or cover it.
3.1.4. Avoid posting pupils' pictures or videos to project journal(public space) or social media.
3.1.5. Get parent permission forms signed for all students in the project.
3.1.6. Hide pupils' faces in posters and videos.
3.1.7. Never write the real surnames as etwinning profiles for children. This is a strict rule. You may change the first name either if it is rare or the pupil doesn't want to share it.
3.2. Dos and Don'ts online for pupils
4. NETIQUETTE
4.1. Netiquette Video
4.2. Video-2
4.3. Video-3
5. DIGITAL ETHICS
5.1. Core Rules of Netiquette