Computer systems need input and output devices for effective teaching purposes. Lever-Duffy, J. & McDonald, J. B. (2011). Teaching and learning with technology (4th ed.). Boston, MA: Pearson Education, Inc./Allyn & Bacon.
by Tonya Lewis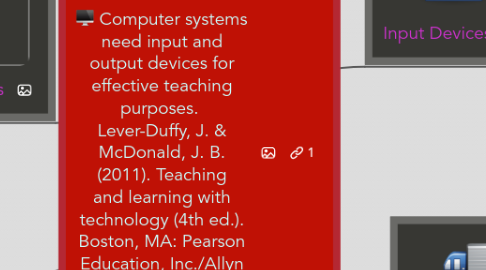 1. Output Devices
1.1. Speakers and headhpones
1.2. Data projection units
1.3. Wireless devices
2. Output Devices
2.1. Printer
2.2. Monitor benefits are that each individual can see what is being taught and have close up first hand knowledge of the material. Challenge is affording monitors for everyone in the class.
2.3. Pointing devices
3. Storage items are items such as floppy disk, hard drive, CD/DVD, and USB drive
4. Input Devices
4.1. Electronic pin at grocery store to sign off on credit card charges
4.2. Digital pad
4.3. Touch pad and touch screens
4.4. Microphones to speak into on computer or other devices such as blue tooth on cell phones
5. Input devices
5.1. Scanner can be flat bed or rolling scan
5.1.1. Convert hard copy to digital information
5.1.2. Make filing info electronic and hardcopy free
5.2. Mouse moves curser around on screen and selects information
5.3. Keyboard inputs letters, numbers, and symbols indicated on keybaord
5.4. Digit al Camera or Cell phone camera