web tools
by Greg Seward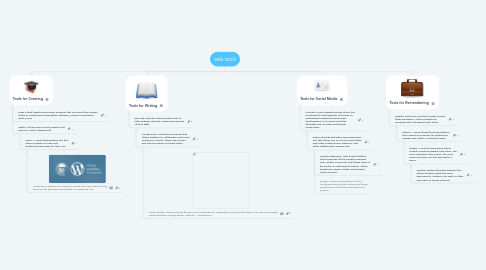 1. Tools for Creating
1.1. Prezi: Cloud based presentation program that acts much like Google Slides or PowerPoint Presentation Software | Online Presentation Tools | Prezi
1.2. Padlet: Allows users to post images and notes to create a digital wall
1.2.1. Diigo: A social bookmarking site that allows students to tage and bookmark web pages for later use.
1.2.1.1. Wordpress: a platform for anyone to create their own website/ blog forum.Create your stunning website on WordPress.com
2. Tools for Social Media
2.1. LinkedIn: Social networking site that is like Facebook for professionals. It focuses on professional networking and career development. It is a great tool that allowsthe user to make world wide connections
2.1.1. Zoom:Cloud-based video communications site that allows you to set up virtual video and audio conferencing, webinars, and other collaborative experiences.
2.1.1.1. Google Classroom: Web based platform that integrates all the Google programs (Doc, Slides, Forms etc) and allows them to be used in an educational setting. Allows teachers to assign, grade and promote online content.
2.1.1.2. yik yak: a social media platform that is configured around your location and things people have said that become liked and popular.
3. Tools for Remembering
3.1. Quizlet: Interactive site that creates various flashcard games. Allows students to compete with and against each other
3.1.1. Kahoot: A game-based learning platform that creates triva games for students to engage each other in material review.
3.1.1.1. Gimkit: A quiz learning game where student compete against each other. The more questions they answer the more power-ups they can buy and apply in game.
3.1.1.1.1. Quizizz: Student directed website that allows student paced formative assessments. Students can work on thier own pace to review material.
4. Tools for Writing
4.1. Easy Bib: Platofrm that provides tools to help students develop noting and accurate citation skills.
4.1.1. Google Docs: Web based program that allows students to collaborate and create content in a cloud. Allows easy access and shared content is stored online
4.1.1.1. Online binders: these work just the same as a real binder for organization and such but helps to file online and digital media.Electronic Closing Binder Software — Bundledocs