PLAN FUTURE Y PICTE
by Clara Vigatà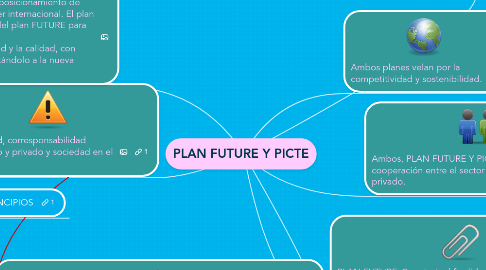 1. Sostenibilidad, corresponsabilidad sector público y privado y sociedad en el turismo.
1.1. Project Sponsor
1.2. Project Manager
1.3. Developers
1.4. Primary User Group
1.5. Supporting Staff
2. OBJETIVOS PLAN FUTURE: Puesta en valor del patrimonio cultural y natural, diversificación de oferta para desestacionalizar, fortalecimiento empresarial, cualificación de los recursos humanos, incorporación de nuevas tecnologías, integración y coordinación de los sectores público y privado.
3. OBJETIVOS PICTE. Consolidación de liderazgo, incremento rentabilidad, sostenibilidad del turismo, diversificación oferta y demanda, mayor distribución flujos turísticos territorio español, calidad en el trabajo, aumento de la presencia internacional de la empresa turística española, consecución de indicadores que muestren las caractertísticas del turismo e integración del turismo en los esquemas de financiación y exportación.
3.1. Budget
3.1.1. Materials
3.1.2. Personel
3.1.3. Services
3.1.4. Duration
3.2. Delivery Timeline
3.3. Requirements
4. PICTE. Calidad integral y posicionamiento de turismo español como líder internacional. El plan PICTE sigue con la tarea del plan FUTURE para así recuperar la competitividad y la calidad, con nuevos conceptos y adaptándolo a la nueva situación.
4.1. Definition
4.2. Items to be Delivered
4.3. Extent
4.3.1. Included
4.3.2. Excluded
5. PLAN FUTURE. Su principal finalidad es mejorar el panorama español y potenciar el sector turístico en el ámbito internacional.
5.1. Project Start
5.1.1. Project specifications
5.1.2. End User requirements
5.1.3. Action points sign-off
5.2. Development Stage 1
5.2.1. Define actions as necessary
5.3. Development Stage 2
6. Ambos, PLAN FUTURE Y PICTE, necesitan cooperación entre el sector público y privado.
6.1. Schedule
6.2. Budget
6.3. Resources
6.4. Delays
7. Ambos planes velan por la competitividad y sostenibilidad.
8. PRINCIPIOS