Plate Tectonics
by
George Horrell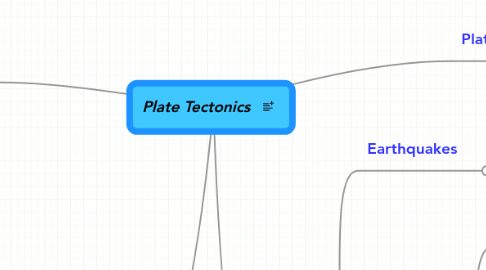 5.0
stars -
2
reviews range from
0
to
5
Plate Tectonics
Plate Tectonics is the study of the theory that the earth is composed of many layers. The composition of the earth can be likened to that of an egg, with the outer edge, the shell, and the core, the yolk. The top layer (the crust), the layer which we walk on, is comprised of many slabs of earth, each independant of each other. The movements of these plates are what give us earthquakes and volcanoes. This mind map explains some of the concepts of Plate Tectonics.
Plates
Conservative
Plates slide alongside.
Products, Volcanoes, Earthquakes
Constructive
Two plates are diverging (moving apart).
(Mid Atlantic Ridge)
Collision
Products, Fold Mountains, Earthquakes
Two plates are moving apart.
Destructive
Products, Fold Mountains, Earthquakes, Volcanoes
Oceanic Plate and Continental Plate Collide.
Layers
Mantle
5000*C
66-2900km
Solid
Outer Core
5500*C
2901-5100km
Liquid
Inner Core
5500*C
5101-6370km
Solid
Crust
1200*C
0-65km
Solid
Surviving Tectonic Hazards
Monitoring
Organizations of rations and shelters
Disaster plans
Local Emergency Services
Energy supplies organized by advanced
Roads and buildings designed to withstand it
Strengthened roads and railways
Hazards
Earthquakes
Pressure built up is released and produces very strong seismic waves.
Measured on Richter scale
Volcanoes
Extinct, Unlikely to ever erupt again, Devil's Tower
Dormant, Hasn't erupted in 2500 years, Santorini
Active, Erupted recently, Mt Etna
Composite Volcano, Mixture of Lava and Ash
Shield Volcano, Lava basic and runny, flows quickly and creates flat volcanoes.
Dome Volcano, Lava acid and thicker, flowing slower and hardens quickly to form steep-sided features.