RELEVANT ASPECTS OF CODESWITCHING, BILINGUALISM, INTERLANGUAGE AND PLURALISM
by Asdrubal Rivera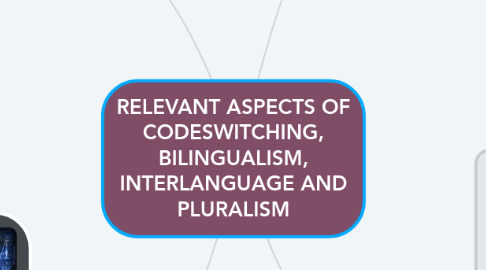 1. Balto-Slavic
1.1. This branch contains two sub-branches
1.1.1. Baltic
1.1.1.1. Only two Baltic languages survive today: Latvian and Lithuanian
1.1.2. Slavic
1.1.2.1. A large number of Slavic languages survive today, such as Bulgarian, Czech, Croatian, Polish, Serbian, Slovak, Russian
2. INTERLANGUAGE
2.1. Most European languages belong to the Indo-European language family. The proto-language of this family (known as "Proto-Indo-European" or simply "Indo-European") emerged in far eastern Europe, from where it spread westward across Europe and eastward into Asia.
2.1.1. This great Indo-European expansion occurred primarily during the period ca. 2000-1000 BC.1
3. Anatolian
3.1. It was predominant in the Asian portion of Turkey and some areas in northern Syria. The most famous of these languages is Hittite.
3.2. This branch has the oldest surviving evidence of an Indo-European language, dated about 1800 BCE.
4. Greek
4.1. Rather than a branch of languages, Greek is a group of dialects
4.2. During more than 3000 years of written history, Greek dialects never evolved into mutually incomprehensible languages.