Books Born As Blogs
by PF Anderson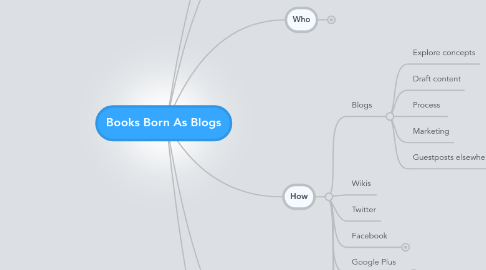 1. Who
1.1. Notables
1.1.1. Established authors
1.1.2. Reviewers & Critics
1.1.2.1. Top Book Blogs
1.1.3. Celebrities
1.1.3.1. Top 25 Celebrity Blogs
1.1.4. Comedians & Humorists
1.1.4.1. TheOatmeal
1.1.5. Musicians
1.1.6. Etc
1.2. Academics
1.2.1. Archivists
1.2.2. Cell biology
1.2.3. Computer Science
1.2.4. English
1.2.5. Historians
1.2.6. Linguistics
1.2.7. Mathematics
1.2.8. Poetry
1.2.9. Physics
1.2.10. Poli Sci
1.3. Public
1.3.1. Activists & Advocates
1.3.2. Athletes
1.3.3. Educators
1.3.4. Fashionistas
1.3.5. Foodies
1.3.5.1. Crockpot365
1.3.5.2. Eat Tweet
1.3.5.3. Food52
1.3.5.4. Glutenfree Girl
1.3.6. Gamers
1.3.7. Geeks
1.3.8. Hobbyists
1.3.9. Housewives
1.3.10. Innovators & Inventors
1.3.11. Ministers
1.3.12. Parents
1.3.12.1. Raising a Traumatized Child
1.3.13. Patients
1.3.14. People with Disabilities
1.3.15. Photographers
1.3.16. Poets
1.3.17. Scientists
1.3.18. Sex workers
1.3.19. Travelers
2. How
2.1. Blogs
2.1.1. Explore concepts
2.1.2. Draft content
2.1.3. Process
2.1.4. Marketing
2.1.5. Guestposts elsewhere
2.2. Wikis
2.3. Twitter
2.4. Facebook
2.4.1. Notes
2.5. Google Plus
2.5.1. Photographs
2.6. Youtube
2.7. Forums
2.8. Niche social networks
3. What
3.1. Books Born as Blogs, the Stack
3.1.1. Updated link
3.1.2. Original link (archival)
3.2. Books Born as Blogs
3.2.1. Delicious tag #bookbornasblog
3.2.2. Delicious tag #booksbornasblog
3.2.3. Delicious tag #booksbornasblogs
4. Getting Started
4.1. Online Dating for Researchers, Clinicians, & Educators
5. Why
5.1. CREEDS
5.1.1. Collaborate
5.1.2. Refine
5.1.3. Educate
5.1.4. Engage
5.1.5. DIBS!
5.1.6. Standing
5.2. Storytelling
5.2.1. Why Storytelling is the Ultimate Weapon
5.2.1.1. So there are two big lessons to take from Guber's book and from the new science of storytelling. First, storytelling is a uniquely powerful form of persuasive jujitsu. Second, in a world full of black belt storytellers, we had all better start training our defenses. Master storytellers want us drunk on emotion so we will lose track of rational considerations, relax our skepticism, and yield to their agenda. Yes, we need to tell to win, but it's just as important to learn to see the tell coming--and to steel ourselves against it.
5.2.2. "Anecdotes amuse, data persuades."
5.2.3. Or ...
5.2.3.1. Gruber
5.2.3.1.1. Tell to Win: Connect, Persuade, and Triumph with the Hidden Power of Story
5.2.3.1.2. Persuasion
5.2.3.1.3. The new critical thinking
5.2.3.2. Gottschalk
5.2.3.2.1. The Storytelling Animal: How Stories Make Us Human
5.3. Social Rewards
5.3.1. A sense of accomplishment
5.3.2. A sense of importance
5.3.3. A sense of community
5.3.4. A sense of pleasure
6. Why Not
6.1. I don't have TIME!
6.2. Someone might steal my stuff if it is easy to find.
6.3. I'm afraid I'll look silly or say something that gets me in trouble.