Vishnu
by
Chelsea Jackson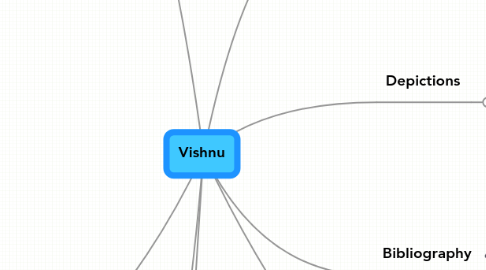 0.0
stars -
0
reviews range from
0
to
5
Vishnu
God
supreme
preserver of the world
takes on a human form when things are bad and fixes them
animals are constantly fighting to show the opposite forces that make the happy middle of Vishnu.
Appearance
blue-skinned
four arms
Discus
Golden Mace
conch seashell
often shown reclining or asleep as he awaits the next annihilation and renewal of the world
Lotus
Eyes
earrings
Snakes
Avatars
Matsya
Kurma
Varaha
Narasimha
Vamana
Parasurama
Rama
Krishna
Buddha
Kalki
Lakshmi
goddess of fortune
appeared with all of Vishnu's incarnations
Two of the most famous prayers for worshipping Ma Lakshmi are Sri Lakshmi Stuti and Sri Sukta.
Vaishnavism
Shiva, the main God of many Hindus is only a servant of their god Vishnu
The followers of Vaishnavism are referred to as Vaishnavas or Vaishnavites
includes the central beliefs of Hinduism such as reincarnation, samsara, karma, and the various Yoga systems
Garuda
large mythical bird or bird-like creature that appears in both Hindu and Buddhist mythology
the mount of Vishnu
Appearance
Depictions
standing on a lotus flower
Reclining on the coiled-up thousand-hooded Shesha Naga, with his consort Lakshmi
Riding on the back of his eagle mount, known as Garuda.