Literature in Life-Themes of Life and Human Condition
by Aiden Hernandez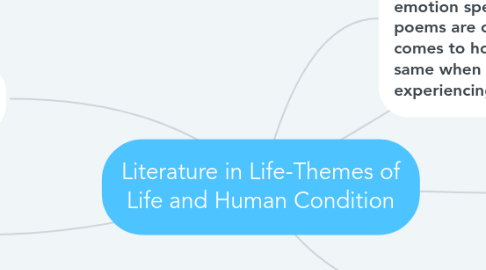 1. Coming by Philip Larkin
1.1. This is another great fit for my topic because it shows the other side of the spectrum when it comes to human emotion, happiness.
2. Broken Wing by Will Reyes
2.1. This is a great fit for my topic because it shows one of the results of depression and anxiety: self-isolation.
3. Question: What causes the intense emotions we feel?
4. Posted June 27, 2019 by UWA | Psychology and Counseling News. "The Science of Emotion: Exploring the Basics of Emotional Psychology." UWA Online, 22 June 2020, online.uwa.edu/news/emotional-psychology/.
5. Emiliana R. Simon-Thomas. "Are Emotions Born or Made?" Greater Good, 30 June 2017, greatergood.berkeley.edu/article/item/are_emotions_born_or_made.
6. I used the compare and contrast organizational scheme because I want to show both sides of the emotion spectrum. These two poems are opposite when it comes to how they feel, but the same when it comes to experiencing emotion.