Technology To Consider When Building A Marketing Funnel
by VTEACH Academy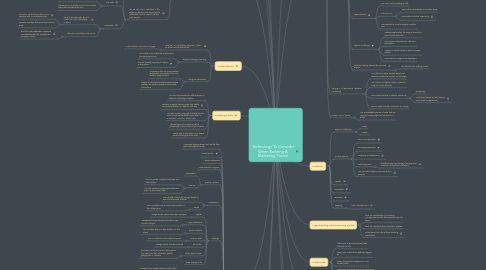 1. Policies To Create
1.1. Refund Policy
1.2. Privacy Policy
1.3. Terms of Service
2. Forms
2.1. Choose the right fields to include
2.1.1. Field types usually include
2.1.1.1. Drop Down Menu
2.1.1.2. Radio Buttons
2.1.1.3. Check boxes
2.1.1.4. Test Input (for short answers)
2.1.1.5. Text Area (for ong answers)
2.2. Types
2.2.1. Single Opt In
2.2.2. Double Opt In
2.3. Display Options
2.3.1. Having the HTML Code for your form allows you to paste it anywhere an HTML Editor is available
2.3.2. With Kartra, You Can display on a Kartra page, video or calendar
3. Pages
3.1. Typical Pages in a Sales Funnel
3.1.1. Opt In
3.1.1.1. Double Opt In Success Page
3.1.1.1.1. Verifies the lead successfully submitted the form
3.1.1.1.2. Triggers a Confirmation Email
3.1.1.2. Confirmation Page
3.1.1.2.1. Triggered after lead clicks on the subscribe link in the confirmation email
3.1.2. Opt In Thank You Page
3.1.3. Sales Page
3.1.4. Thank You Sales Page
3.1.5. Membership Log In Page
3.1.6. Calendar Page (optional)
3.2. Can use Templates to quickly build
3.3. Pop up Windows
3.3.1. Appear in the same window while creating a shadow on the background content
3.3.2. Two Types
3.3.2.1. Landing Page Pop Up
3.3.2.1.1. Pops up when someone loads the page
3.3.2.2. Exit Pop Up
3.3.2.2.1. Appears When a visitor mouses away from the window
3.3.3. Can Set Delays
3.3.3.1. From Landing
3.3.3.2. Display Reocurrance
3.3.4. Can use customizable templates
3.4. Page Settings
3.4.1. Customizing Seo Parameters
3.4.1.1. Can change the title of the page
3.4.1.1.1. This is the title that appears in search engine results and browser tab
3.4.1.2. Can give Page Meta Description
3.4.1.2.1. Shows on search results underneath the page title
3.4.1.3. Can set Page Meta Keywords
3.4.1.3.1. Helps search engines determine what content your page contains
3.4.1.4. Can set a Page Author
3.4.1.4.1. This may appear inside a search result
3.4.1.4.2. May want to add an author if the page is an article or blogpost
3.4.2. With 3rd Party Tracking codes, on the pages you can:
3.4.2.1. Embed Tracking Code Into The <Head>
3.4.2.2. Embed Tracking Code Into The <Body>
3.4.2.3. Embed Tracking Code Into The <Footer>
3.4.2.4. Embed Facebook Ads Tracking Code
3.4.3. Tags
3.4.3.1. Can tag visitors to your pages
3.4.3.2. Lead's browser must have cookies enabled
3.4.3.3. Can be used to track movement on a page
3.4.4. Page Redirect
3.4.4.1. You can turn this setting on/off
3.4.4.2. If turned ON
3.4.4.2.1. Can redirect Everybody to a certain page
3.4.4.2.2. Can redirect Certain Users only
3.4.4.3. Can redirect to a Kartra Page or another URL
3.4.5. Page OG Settings
3.4.5.1. Settings apply when the page is shared on social media websites
3.4.5.2. Can create a separate OG Title and Description
3.4.5.3. Appear in Social Media vs Search Engine Results
3.4.5.4. Can select an Image to be displayed
3.4.6. Hide from being indexed by a Search Engine
3.4.6.1. You can turn this setting on/off
3.5. Using B.A.M. (Behavioral Adaptive Marketing)
3.5.1. Uses data you have tracked about your leads to modify the content on the page
3.5.2. Can choose to display certain parts of a page to certain devices
3.5.3. Can choose to hide or show a section to
3.5.3.1. Everybody
3.5.3.2. Only those based on lists, tags or subscribed to sequences
3.5.4. Can be used to track movement on a page
3.6. Custom HTML Codes
3.6.1. Are embeddable pieces of code that you can put on any page that has an HTML Editor
4. Tags & Categories
4.1. Tags
4.1.1. Are applied to your leads
4.1.2. Aren't visible to the public
4.1.3. Leads CANT unsubscribe from Tags
4.1.4. Should be specific
4.1.5. You can tag leads who
4.1.5.1. Visit certain pages within your website
4.1.5.2. Visit your help desk
4.1.6. You can set tags to expire from leads after a period of time (this is optional)
4.2. Categories are used to organize the tags
5. Lists
5.1. Are databases that hold information
5.2. Easy way to segment leads into groups
5.3. Should be BROAD
5.4. Money is in the list
5.5. Review Your List Often
5.6. Your leads can unsubscribe at any time
5.7. Each lead should be subscribed to at least ONE List
6. Products
6.1. Payment Gateways
6.1.1. Stripe
6.1.2. PayPal
6.2. Pricing Options
6.2.1. One Time Payments
6.2.2. Recurring Payments
6.2.3. Limited # of Installments
6.2.4. Initial Payment
6.2.4.1. If enabled you can charge a trial payment or flat set up fee that is different
6.2.5. You can add multiple price points for a product
6.3. Upsells
6.4. Downsells
6.5. Bonuses
6.6. Tagging
6.6.1. Cart Abandonment
7. Sequences
7.1. Keys to Sequences
7.1.1. Allows personalized interaction with every lead
7.1.2. A pre-built series of communications and actions
7.1.3. A Starting Rule Must Be Defined
7.1.4. Automations inside sequences allow you to reverse any options that were created in your other automations
7.2. Example of a New Subscriber Sequence for your Leads
7.2.1. Starting Rule- Leads subscribe to your list
7.2.2. You set up a Thank You email to go out immediately
7.2.2.1. You have options of the time and/or day to send the email out
7.2.3. You Set up 3 Emails that will send your Free Content and CTA
7.2.3.1. Email #1 goes out in 7 days
7.2.3.2. Email #2 goes out 7 days later
7.2.3.3. 3rd Email goes out 7 days later
7.2.3.3.1. Includes a CTA link to purchase your product
7.2.4. You set up a SPLIT Condition in the sequence builder that separates the Leads who have or haven't made a purchase yet
7.2.4.1. Trigger is "Has purchased Your Product"
7.2.4.2. True Side
7.2.4.2.1. Leads that purchases your product by the 3rd Email are sent to this side
7.2.4.2.2. Sequence is Complete and no more emails within this sequence are sent
7.2.4.3. False Side
7.2.4.3.1. Send a 4th Reminder Email if Lead hasn't purchased your product
7.2.4.3.2. After your countdown timer ends
8. Automations
8.1. They are "IF" something happens, "Then" an action will be performed
8.1.1. Automations MUST have a trigger
8.2. Require Strategic Planning
8.2.1. Will pretty much automate most of your business operations
8.2.2. Should visually map out all of your automations
8.3. Things to Remember
8.3.1. If someone fills out a form before automation was created, the rule doesn't apply to them
8.3.2. Always check previous automations before adding new ones to prevent unintended interactions
9. Tracking Links
9.1. Are used to promote the effectiveness of different marketing activities
9.2. Contains a digital tracking code that tracks user activity (clicks) for a specific link only
9.3. You can create a separate tracking link for each social media platform you use (i.e. Facebook, LinkedIn, Twitter, etc)
9.4. This will give you insight on which platform(s) to focus most of your efforts
9.5. Allows you to see where your target audience hangs out the most
10. Videos
10.1. Advanced tagging based on how far they watch through the video
10.2. Lead Capture
10.3. Mobile Optimized
10.4. Have detailed Analytics
10.5. Display Options
10.5.1. Embedded
10.5.2. Pop Up
10.5.2.1. You can create a button that pops up a video player
10.5.2.2. You can create an image when selected pops up the video player
10.6. Dimensions
10.6.1. Size of video frame will change based on size of the browser window
10.6.2. Fixed
10.6.2.1. You can determine the exact dimensions of the video frame
10.7. Settings
10.7.1. Splash
10.7.1.1. Image shown before the video is played
10.7.2. Logo Watermark
10.7.2.1. Transparent Image located at bottom right corner of player
10.7.3. Show Controls
10.7.3.1. This includes play and stop buttons on the player
10.7.4. Mute on Start
10.7.4.1. You can start the video without sound
10.7.5. Skin Color
10.7.5.1. Change colors of video controls
10.7.6. Show Social Share
10.7.6.1. If someone clicks on social media option they can share with facebook, twitter, google plus or LinkedIn
10.7.7. Show Overlay Title
10.8. Calls to Action
10.8.1. Opt In Form
10.8.1.1. Allows you to create select an opt in form you have already created to embed in the video
10.8.1.2. You can make it mandatory to start or continue playing the video
10.8.1.3. Video can be paused while the displaying the Opt In form
10.8.1.4. Upon completing the form
10.8.1.4.1. Can redirect to a Opt In Thank you page after completing the form
10.8.1.4.2. Can resume playing the video
10.8.2. Image Banner
10.8.2.1. Can create images that display at a certain time
10.8.2.2. Video can be paused while displaying the image
10.8.2.3. You can send a hyperlink to an image
10.8.2.4. You can make it mandatory to click on the image to continue playing the video
10.8.3. Caption
10.8.3.1. Can create captions that display from and until a certain time
10.8.3.2. Has Headline Text
10.8.3.3. Caption + Button
10.8.3.3.1. Can add a button that shows to the right of the caption
10.8.4. Social Unlock
10.8.4.1. Pauses the video so you can show social media icons
10.8.4.2. You can make it mandatory to share on social before you can continue playing the video
10.9. Tags can be assigned
10.9.1. When a lead visits the video page
10.9.2. At a time through the video
10.9.3. When a lead triggers a CTA(Call to Action)
10.10. End of Video Actions
10.10.1. Just end the video
10.10.2. Loop the video back to the beginning
10.10.3. Play another Kartra video
10.10.4. Redirect to a URL
11. Membership Site/Learning Portal
11.1. Look for membership or Learning Management Portals that support many file types
11.2. Look for ones that allow unlimited uploads
11.3. Select ones that offer affiliate tracking capabilities
12. Help Desk
12.1. Allows you to provide personalized customer service
12.2. Keeps your emails from getting clogged up
12.3. Keeps all questions organized in one concise place
12.4. Allows you to build a FAQ or improve your products/services based on the type of tickets submitted
12.5. Kartra has a built in Help Desk
13. Calendar
13.1. Keeps your Trainings organized for your students, clients, leads, etc
13.2. Use for Application Sessions to qualify Leads for High Ticket Sales
13.3. Find one that integrates easily with Google Calendars (which most of them do)
14. Lead Scoring
14.1. Can give points to your leads depending on actions they have taken
14.2. Ties into a Lead Profile
14.3. You can target certain funnels, products and/or services to different lists/leads based on their engagement
15. Suggested Resources
15.1. MindMapping
15.1.1. MindMeister:
15.1.2. Use code vteachconnect and get 10% discount
15.2. Landing Pages/Funnel Builder
15.2.1. Kartra (Try for 14 days for only $1)
15.3. 60 Minute Coaching Sessions
15.3.1. Clarity Call
15.3.2. Technology Coaching
15.3.3. Strategy Coaching Call
15.4. Learning Managment System
15.4.1. Teachable
16. Emails
16.1. Broadcasts
16.1.1. These are One Off Emails
16.1.2. Can send to your entire database
16.1.3. Can send to leads based on filters
16.1.4. You can create Split Tests (optional)
16.1.4.1. Different versions of your message
16.1.5. Send/Schedule
16.1.5.1. Can Send Immediately
16.1.5.2. Can Schedule Sent Out Date & Time
16.2. Sequences
16.2.1. These are a series of emails spread out over time
17. Affiliate/Program
17.1. Great way to promote your product/service with low costs
17.2. Only pay your affiliates once a sale has been made
17.3. Best types of affiliates
17.3.1. Your customers
17.3.2. Other Professionals that offer courses/services that compliment yours
17.3.3. Affiliates specifically dedicated to affiliate marketing in your area of expertise
17.4. Payout Methods to Affiliates
17.4.1. Manually
17.4.2. Automatic PayPal Adaptive Payments
17.4.3. Use A Platform that handles affiliate payouts on your behalf
18. Integrations
18.1. Zapier
18.1.1. Allows you to connect any platforms that you are using together without the need for hiring an expensive coder
18.1.2. The platforms that you are using must have a Zapier integration listed within the Zapier website
18.1.3. Kartra has a Zapier Integration
18.2. Native Integrations
18.2.1. The platforms you select usually have integrations with other platforms
18.2.2. It is called "Native" because the platform specifically built the integration(s) themselves to work with certain platforms
19. How to Use This MindMap
19.1. Click on the Dots To Expand or Collapse
19.2. Hover over circle with lines to see additional Notes
19.3. Click on the Arrows to Open Hyperlinks