5g Evolution In Malaysia
by aina husnainy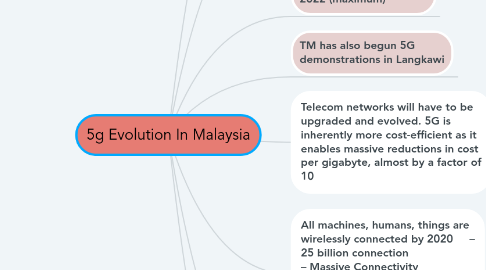 1. * Telekom Malaysia Berhad (TM), through its enterprise and public sector business solutions arm, TM ONE, has signed a partnership with Majlis Perbandaran Subang Jaya (MPSJ) for 5G trials to manage traffic, parking and public safety.
2. * Langkawi, also known endearingly as the Jewel of Kedah, plans to bring five million tourists onto its shores in 2020. * TM is testing these solutions in their 5G Langkawi trials, taking place from December 2019 until first half of 2020
3. Malaysia had pushed the introduction of 5G until 2022 (maximum)
4. TM has also begun 5G demonstrations in Langkawi
5. Telecom networks will have to be upgraded and evolved. 5G is inherently more cost-efficient as it enables massive reductions in cost per gigabyte, almost by a factor of 10
6. All machines, humans, things are wirelessly connected by 2020 – 25 billion connection – Massive Connectivity – Download speeds of 10Gbps – Latency of 1 milliseconds – Ultra Reliable – Long Battery Life
7. THE EVOLUTION 5G IN MALAYSIA BY YEARS: 1G - 1979 ANALOG TELECOMMUNICATIONS 2G - 1991 TEXT MESSAGING 3G - 1998 MOBILE AND WIRELESS INTERNET CONNECTION 4G - 2008 CLOUD, IP AND BROADBAND 5G - 2019 UNLIMITED DATA CAPACITY
8. REFERENCES: DEVELOPMENT OF 5G IN MALAYSIA.