Sample ParnasaFest Marketing Campaign (DC)
by
Noah Wolfe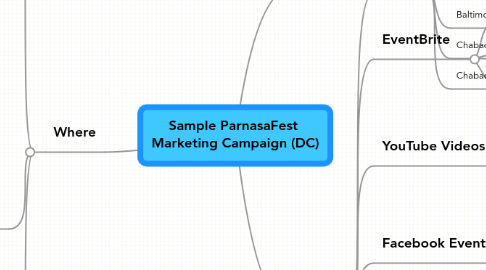 5.0
stars -
1
reviews range from
0
to
5
Sample ParnasaFest Marketing Campaign (DC)
Where
Web
PF Home page
Facebook
Twitter
Eventbrite
Local listservs, Silver Spring listserv, Kemp Mill listserv, Warwick listserv
Sponsor's web sites
Places
All shuls in your city, YISE, KMS, White Oak, Woodside, Chabad - Silver Spring, Georgetown, Chabad - DC???, Baltimore
Local Hillels, Maryland, George Washington, Georgetown, etc.
Local Jewish Businesses, Citgo, Ben Yehuda, Shaul's, Eli's, Shalom's, Max's, Pastry Oven, MacGruders, Sienas, Goldberg's
Extended Jewish community Businesses, Baltimore
Publications
Synagogue Shabbos flyers
Local Jewish paper
Local Jewish monthly "ad book"
Who (Identify your target neighborhoods)
YISE
KMS
Woodside
White Oak
Georgetown
Baltimore?
Chabad - Silver Spring
Chabad - DC???
How
ParnasaFest home page
Video and link to EventBrite page
EventBrite
Put link in all marketing
Ticketing
Allows the saving of the event
YouTube Videos
Explanation of PF
Personal video for DC area?, Placement, PF DC home page, Eventbrite page, Facebook page
Facebook Event page
Directs traffic to EventBrite page
email people who confirm on FB to go to EventBrite
Twitter
Message the Jewish DC network
create small URL, points to eventbrite
Hosts accounts, put on PF event page, put on eventbrite page, put on FB page, Use to promote event
Create tweet for event
Other twitter accounts, Find influencers in the area who will help promote the event
Evite?
Flier
PDF, with links