HOW COULD WE FOSTER COLLABORATION BETWEEN COUNTRIES TO ENSURE CHILDREN'S ACCESS TO SAFE AND SUSTAINABLE TRANSPORTATION SYSTEMS?
by Leo Ramillien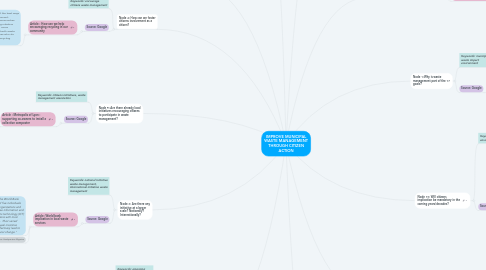 1. Node 2: Which issues Global South countries are experiencing regarding mobility?
1.1. Keywords: Impact Transportation System countries
1.2. Source : Google
1.2.1. Search: article "From Mobility to Access for All: Expanding Urban Transportation Choices in the Global South" by Christo Venter
1.2.1.1. Report's link
1.2.1.2. Citation: "Access to jobs, services, and people is key to a city's economic vitality and quality of life. In the global south, any cities are experiencing a decline in accessibility due to a confluence of rapid urbanization and motorization trends."
1.2.1.2.1. https://cdn.glitch.com/
1.2.1.2.2. Image source: Nhan Dan
1.2.1.3. Insight: the report says that regarding transport, environmental issues come with economic issues
2. Node 3: Why transportation systems have to be sustainable in addition to being efficient?
2.1. Keywords: sustainable transport stakes
2.2. Source: Youtube
2.2.1. Insights about sustainable solutions
2.2.1.1. Citation:"Citizens themselves also have to change the way they look at their city - and the way they use it as well - to build a more sustainable place to live"
2.2.1.1.1. KEY TAKEAWAYS There is a true need for sustainable alternatives to transport as climate change is becoming more and more threatening.
2.2.1.2. Insight: some sustainable solutions already exist according to the video
3. Node 4: What are some possible sustainable solutions?
3.1. Keywords: sustainable urban mobility
3.2. Source: TedxJaffa
3.2.1. The future of urban mobility | Oren Shoval | TEDxJaffa
3.2.1.1. On demand shuttle networks could be a solution: a fleet of vehicles adapting to the real time demand and traffic conditions. Outcome - Efficient, convenient and sustainable mobility.
3.2.1.1.1. KEY TAKEAWAYS Among the possible sustainable mobility alternatives, some are truly promising. Oren Shoval insights seem really relevant.
3.2.1.1.2. Problem: hard to implement in the congested urban areas of the Global South
3.2.1.2. Limitation: people's lack of knowledge about sustainable mobility
4. Node 6: Do projects exist to ensure children access to safe & sustainable transportation systems?
4.1. Keywords: children safe sustainable transport
4.2. Source: European Commission Website
4.2.1. https://cdn.glitch.com/ Some projects were conducted in Europe, regarding safety in transport for children!
4.2.1.1. CORDIS | European Commission
4.2.1.1.1. KEY TAKEAWAYS Only a few tangible projects have been implemented in order to facilitate children's access to safe and sustainable mobility. Moreover, projects are mainly developed in northern countries which leaves a lot of room for improvement.
4.2.2. Logo source: Arsène Heitz
4.2.3. Insight: According to the report, the measure are complementary with a proper education on sustainable development
5. Node 7: Some projects exist in Europe. But what's next?
5.1. Keywords: Future sustainable mobility children
5.2. Source: Google
5.2.1. Article: educating the next generation for sustainable mobility
5.2.1.1. Some sort of conditioning can be realized thanks to the combined use of environment education and cycling, which helps children to make sustainable mobility a life-long decision.
5.2.1.2. https://cdn.glitch.com/ Photo by Nasos Efstathiadis
5.2.1.3. Citation: "Intelligent Energy Europe (IEE), launched in 2003 by the European Commission, seeks to find sustainability initiatives around the region that can help Europe's citizens gain the knowledge and skills they need to surmount current environmental challenges and work towards creating a more sustainable future."
5.2.1.3.1. KEY TAKEAWAYS Again, efforts are made to foster sustainable transport among children. Yet, these efforts are mainly made in northern countries which deepens the gap between Global South and Global North.
5.2.2. Article: Improving Sustainable School Transportation with a Game-based Learning Interface
5.2.2.1. This articles describes a digital activity performed by primary school children. This activity fosters sustainable and active mobility to address sustainable development challenges in a collaborative manner.
5.2.2.2. https://cdn.glitch.com/ Photo by Jovannig - Fotolia
6. Node 5: Can we make a link between mobility access issues and children?
6.1. Keywords: children transportation disadvantage
6.2. Source: Google
6.2.1. Report: International conference on traffic and transport engineering - Belgrade
6.2.1.1. Citation: "Data analysis showed significant correlation between travel time and academic achievements of pupils, as well as correlation between travel time and absence from the school. It was also found that travel time negatively affected attitude of pupils regarding the influence of transportation on their education."
6.2.1.1.1. KEY TAKEAWAYS The impact of transport disadvantage on education of high school population is significant, and especially in urban areas of developing countries. We must take action to solve this major concern.
6.2.1.2. https://cdn.glitch.com/
6.2.1.3. Image source: GoGetFunding
6.2.1.4. Insight: some projects exist at a local scale to ensure children access to mobility in order to improve education
6.2.1.4.1. Do other projects exist at a larger scale (national, international...)?
7. Node 1:Why transportation systems are part of the 17 goals?
7.1. Keywords: transportation systems worldwide
7.2. Source: Google
7.2.1. Article: Sustainable mobility for all "Global Mobility Report"
7.2.1.1. Report's link
7.2.1.2. Citation: "Improving connectivity between and within countries can bridge stark differences in economic development by strengthening interregional trade."
7.2.1.2.1. KEY TAKEAWAYS Transport plays a crucial role in connecting people to goods, services, social and economic advancement opportunities, and in fostering development.
7.2.1.3. Insight: there seems to be one differences between countries
8. Node 8: What about the southern countries?
8.1. Keywords: global south mobility challenges
8.2. Source: Google
8.2.1. Article: transport innovation from the Global South
8.2.1.1. Citation: "Undoubtedly there is significant room for improving current transportation systems. Many of its flaws could be mitigated with the help of digital solutions that are changing mobility around the world. The rapid uptake of digital technology in the Global South, notably smartphones which are widely used even in low-income communities, could facilitate this development."
8.2.1.1.1. KEY TAKEAWAYS Southern populations are lacking some technical tools to address sustainable transport challenges even though there is hope with digitalization
8.2.1.2. Insight: it seems that most of the innovations in the Global South were conducted by governments...
9. Node 9: How could Global South overcome those obstacles?
9.1. Keywords: global south mobility solutions
9.2. Source: Google/podcast
9.2.1. https://cdn.glitch.com/
9.2.2. Podcast: Thinking Cities: Debating just development in the Global South
9.2.2.1. Insight: Interviewer says that some governments already implemented policies to foster sustainable mobility in the Global South
9.2.2.1.1. KEY TAKEAWAYS In regards to the various difficulties southern countries encounter in their road to sustainable mobility, it is governments' responsiblity to implement efficient policies that would change the structure of current transportation systems.
10. FROM SUBJECT TO NEWLY DEFINED PROBLEM Subject: Ensure children safe and sustainable access to transportation systems Sustainable transport is a key determinant of education access for children in the world. However, there are a lot of differences between Global South and Global north. Southern countries lack the initiatives fostered in developed countries and even though elements like digitalization represent some opportunities to facilitate southern countries's sustainable mobility development, past experiences prove that all countries must work jointly to implement efficient and sustainable policies at a global scale.
11. Node 10: How do governments in Global South react?
11.1. Keywords: government policies sustainable mobility
11.2. Source: Google
11.2.1. Report: Global Roadmap of Action (GRA) - Sum4All
11.2.1.1. Citation: "The "Global Roadmap of Action Toward Sustainable Mobility" (GRA) tackles heads-on the question any decision-makers face in transport: "How" can my country achieve sustainable mobility?"
11.2.1.2. Sum4All was created in 2017 and is hosted by the World Bank. Global coalition of 55 influential public organizations and private companies. Huge platform for international cooperation on issues related to transport and sustainable mobility.
11.2.1.2.1. https://cdn.glitch.com/
11.2.1.2.2. Image source: Undispatch.com
11.2.1.2.3. Insight: Some governments in Global South work jointly with Northern institutions in order to address sustainability challenges.