Shoe Dog Summary
by Danny Forest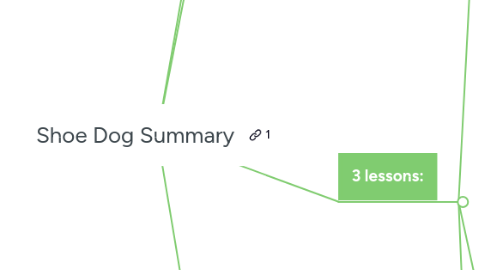 1. 1-Sentence-Summary:
1.1. Shoe Dog is the autobiography of Nike's founder Phil Knight, who at last decided to share the story of how he founded one of the most iconic, profitable and world-changing brands in the world.
2. Favorite quote from the author:
2.1. "The only time you must not fail is the last time you try." - Phil Knight
3. 3 lessons:
3.1. You only get a few chances to start something crazy, so go for broke when you're young.
3.1.1. Phil Knight has always loved sports. He loved following them and he loved doing sports.
3.1.2. As a kid he once had a summer job tabulating the day's sports scores for a newspaper during the night shift, which would then be published in the next day's paper. Every morning after work, he ran home – seven miles.
3.1.3. After later graduating college and entering Stanford Graduate School of Business, one of his professors described the character of an entrepreneur, and Phil instantly recognized himself.
3.1.4. As the class required writing a business plan to pass, Phil wrote a paper called "Can Japanese Sports Shoes Do to German Sports Shoes What Japanese Cameras Did to German Cameras?"
3.1.5. Even though nobody was all that impressed with the paper, Phil became obsessed with the idea of selling Japanese, high-end, low-cost running shoes in the US, so on his post-graduation trip around the world, he made a stop in Japan.
3.1.6. There, in Kobe, he discovered the Tiger brand, made by Onitsuka (the ones Uma Thurman wears in Kill Bill), and fell in love with it.
3.1.7. Figuring he was already there, young, and had nothing to lose, he made a cold call to the CEO, Mr. Onitsuka, who agreed to meet with him – and gave him the distribution rights for the western United States to sell Onitsuka Tiger shoes.
3.1.8. Startled by his own success, Phil randomly blurted out "Blue Ribbon," when Onitsuka asked him for the name of his company. And just like that, he was in business.
3.2. Get someone, who can be your mentor and partner and will believe in you and bring valuable skills.
3.2.1. While sealing the initial deal had been as simple as showing up at Mr. Onitsuka's door, getting the initial samples wasn't.
3.2.2. The first 300 pairs took over a year to be delivered, during which Phil worked as an accountant.
3.2.3. When Phil finally got the shoes, one of the first people he mailed two pairs to was Bill Bowerman, his former running coach at the University of Oregon, hoping to get a sale and a powerful testimonial.
3.2.4. To Phil's surprise, Bill didn't stop at that and instead offered to become his partner and take care of product design.
3.2.5. Having his mentor now as a partner and seeing that he too believed in Phil's idea was one of the things that gave Phil the confidence to create the company exactly as he saw fit – and that's what made it the honest, hard-working, caring brand we know today.
3.2.6. The first year, Phil sold the shoes out of the trunk of his car, a green Plymouth Valiant, at track meet ups across the country and grossed $8,000 in 1963.
3.2.7. Bill didn't just help with encouragement though. Soon it would become clear that Bill's skill set would be crucial for the company's success too.
3.3. Just tell people what to do and let them figure out the how. Encourage everyone to be themselves.
3.3.1. Phil Knight did what he learned from General Patton: "Don't tell people how to do things. Tell them what to do and let them surprise you with their results."
3.3.2. Phil always wanted to let people be themselves. And Bill was a true shoe dog. He was obsessed with shoes and making them better.
3.3.2.1. When Phil was running for Bill, Bill would always use him as a guinea pig to test new shoe materials, tweaks and improvements.
3.3.2.2. Bill would tear apart a shoe, piece it back together, and try to make it lighter, better and more of an asset to the runner, rather than a necessary liability.
3.3.2.3. He even built a shoe with fish skin instead of leather once!
3.3.3. At the time, Bill also started coaching popular runners and future Olympians, helping to sell more shoes, and when Phil mailed Bill's first modified shoe prototype, the Cortez, to Onitsuka, suggesting they manufacture it, they landed their first big, commercial hit.
3.3.4. This hands-off management style would continue to add to Blue Ribbon and then Nike's success. Hiring great people and letting them do their thing is one of the core parts that made Nike, well, Nike.
4. Who would I recommend the Shoe Dog summary to?
4.1. The 25 year old on a backpack trip around the world, trying to find herself, the 31 year old lonely founder, who could benefit from a business partner, and anyone who has a crazy business idea.