online learning is a learning method that uses an internet-based interactive model and a Learning Management System (LMS). Like using Zoom, Google Meet, and others
by Bintang Ponsel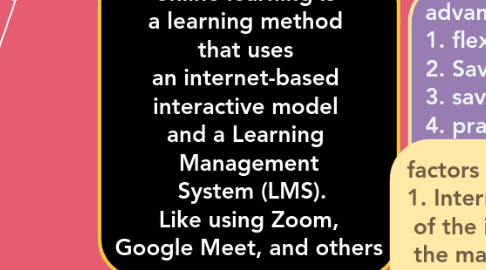 1. advantages of studying at home 1. flexible time and place 2. Save costs 3. save time on the round trip 4. practical and economical 5. All material can be stored
2. lack of studying at home: not everyone has a smartphone, and not everyone has media. Even though this learning looks practical, there is certainly a cost that is quite economical
2.1. This is caused by many factors, one of which is the economic condition of the student's family.
3. factors affecting: 1. Internet access limitations It is known that the non-operation of the internet network is the main obstacle to the implementation of secondary education in the midst of a pandemic. In fact, complaints started from students, teachers and parents. 2. Not all have cellphones. because the economy is affordable, many school children do not have cellphones or other electronics.
4. Online class
4.1. Caused by corona virus from wuhan Tahun 2020
4.2. In this corona condition, the entire community, both teachers, students, and students, can only s tay quiet at home, take care of their health.
5. Indonesia teachers struggle with DISTANCE Learning
5.1. In this condition it is very difficult for teachers to teach. One of them is a school that is far from the reach of fingers, or people who live in the village. There the teacher must come to the students one by one to give lessons.