Improve municipal waste management through citizen action
by Luc BELLOEIL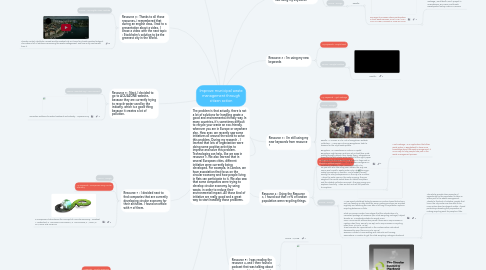 1. Resource 1 : I ask the learning hub using my keywords
1.1. My keywords : Waste management, citizen actions
1.2. Source : Google
1.2.1. Results :
1.2.1.1. Five ways to increase citizen participation in local waste services; SILPA KAZA ,LISA YAO CLAIRE MARKGRAF JUNE 29, 2016
1.2.1.1.1. Here are the five ways : Recycle Bank; I Got Garbage; World bank MOPA project in mozambique; EMASEO;World Bank Development Policy Loans in Morocco
2. Resource 2 : I'm using my new keywords
2.1. My Keywords : recycle bank
2.2. Source : Google/Youtube
2.2.1. Results :
3. Resource 4 : Using the Resource 2, I found out that 33% of london population were recycling things.
3.1. My keywords for this research : 33% of people in london recycle.
3.2. Source : Google
3.2.1. A new report published today by Resource London shows that actions such as cleaning up dirty, dark bin areas, making sure bins are emptied regularly, and ensuring bins can take a full bag of recyclables, improve recycling behaviour in flats. Pilots run across London have shown that the introduction of a consistent package of measures (the 'Flats Recycling Package') helped tenants on 12 Peabody estates to recycle more Over a nine-month intervention period, there was a 22% increase in capture rates (from 38.2% to 46.8%) and a 26% increase in recycling rates (from 10.7% to 13.4%) There was also an improvement in the contamination rate which decreased by 24% (from 30.7% to 23.4%) Resource London is now working with councils and housing associations in London to get the Flats Recycling Package introduced
3.2.1.1. This article provide clear example of opportunity for the population to take an active part in the waste management. Thanks to this kind of initiative, people that live in the city center are also able to be more active about ecological matter. I found particulary interesting the proposition of making recycling work for people in flats.
4. Resource 5 : I was reading the resource 4, and I then found a podcast that was talking about the same subject as the article.
4.1. Source : LWARB
4.2. Making recycling work for people in London's purpose built flats
4.2.1. The Circular Economy Playbook Podcasts (1-English)
5. Resource 6 : By listening to the podcast from resource 5, I discovered Circulary economy, and found an interesting article with a video that explain what it is.
5.1. Keywords : Circular Economy
5.2. Source Google & Ellen MacArthur Foundation
5.3. Explaining the Circular Economy and How Society Can Re-think Progress | Animated Video Essay
5.4. What is a Circular Economy? | Ellen MacArthur Foundation
6. Resource 7 : I decided next to find companies that are currently developing circular economy for their activities. I found an article with 5 of them.
6.1. Source : Google
6.2. My Keywords : Companies using circular economy
6.3. 5 Companies That Embrace the Concept of a Circular Economy - Goodnet 1.Timberland; 2. JOHNSON CONTROLS; 3. AQUAZONE; 4. VIGGA; 5. RAW FOR THE OCEANS
7. Resource 8 : Next, I decided to go to AQUAZONE website, because they are currently trying to recycle water used by the industry, which is a good thing because it creates a lot of pollution.
7.1. Source : Goodnet.org / AQUAZONE.fi
7.2. Innovative solutions for water treatment and industry - Aquazone Oy
8. Resource 9 : Thanks to all those resources, i remembered that during an english class, I had to a presentation about a video. I chose a video with the next topic : Stockholm's solution to be the greenest city in the World.
8.1. Source : Me, English Class, Youtube
8.2. Climate control: Stockholm named world's smartest city as it aims for climate positive footprint This video is full of solutions concerning the waste management, and how a city can benefit from it.
9. Resource 10 : Thanks to the youtube video of resource 9, I found the website of a company that was cited in the youtube video. Thanks to a smart waste management system, people are able to recycle their product a smarter way, with this trash which can handle many different waste and handle it the right way
9.1. Source : Google
9.2. Smart waste handling for sustainable cities, hospitals and airports
9.3. Keyword : Envac
10. Resource 3 : I'm still using my new keywords from resource 1
10.1. My Keywords : I got Garbage
10.2. Source : Google
10.3. Results : IT Comes To The Aid Of Bangalore's Rubbish Collectors - A new app is turning Bangalore's trash to treasure for the city's waste pickers. Bangalore - In a warehouse in India's IT capital Bangalore, eight women and men sit on bast fiber mats, sorting through rubbish, their hands flying. Tetrapaks are tossed to the left, plastic water bottles to the right, paper and cardboard behind them, old shoes in a large sack in the corner, coconuts in a bin. "My workers recognize 72 varieties of rubbish," says Mansoor proudly. The 33-year-old, who like many poor Indians has only one name, was himself a waste picker only a short time ago. Today he employs 10 families - and numbers himself among the many entrepreneurs in the city of 8.5 million. "When the sacks come in the early morning, they are weighed, the results noted down on tablet computers and the rubbish collectors are paid," the wiry young man explains cheerfully. "Then we sort and sell the products to recyclers."
10.3.1. I Got Garbage : is an application that allow waste picker in Bangladesh to have more knowledge about the waste management. It is one way to help people take part in the waste management process.
11. The problem is that actually, there is not a lot of solutions for handling waste a good and environmental-friendly way. In many countries, it's sometimes difficult to recycle your waste an eco-friendly, wherever you are in Europe or anywhere else. How ever, we recently saw some initiatives all around the world to solve this problem. During my research , I learned that lots of organization were doing some positive activities to improve and solve this problem. Technologies can help, like we saw in resource 3. We also learned that in several European cities, different initiative were currently being developed. For example, in London, we have association that focus on the circular economy and how people living in flats can participate to it. We also saw that some companies were trying to develop circular economy, by using waste, in order to reduce their environmental impact. All those kind of initiative are really good and a great way to start handling those problems.