Tips your start the first day at a new job
by Ludgardys Quintero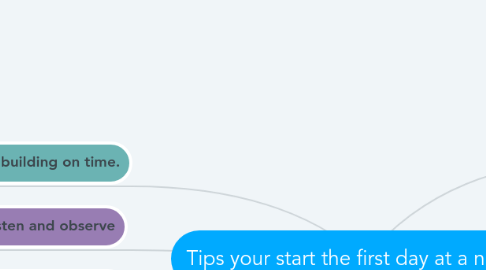 1. The first day at your new job may be among the most memorable
2. Show up early, but enter the building on time. 
2.1. Get ready to give a 30-second explainer of who you are and where you were before, as many new colleagues will likely ask about your previous place of employment
3. Show up early, but enter the building on time. 
3.1. Get there at least 15 minutes early
4. Figure out the social landscape
4.1. Two of the more important factors in succeeding at a job are to not only get along with your co-workers, but also to associate with the right ones
5. Relax
5.1. While you're being strategic, also remember to relax on your first day so that you can optimize your productivity. "Make sure you're well rested, prepared, and have every reason to be on time. 
6. Listen and observe
6.1. The best thing anyone can do in the first few days of a new job is listen. This is a prime opportunity to hear about the goals your boss and others have for the company, the department, and top projects.
7. Project high energy
7.1. Everyone wants to work with enthusiastic, upbeat people — so let them know that this is exactly what they can expect.
8. Put your cell phone on silent.
8.1. You need to be 100% present at work, especially on the first day.
9. Prepare and ask questions
9.1. you can and should ask questions when necessary. "Generally, you're trying to demonstrate your curiosity and desire to learn," he says.