Creating a youth club with online sessions in Pen-y-groes Carmarthenshire.
by Abi-Marie Grace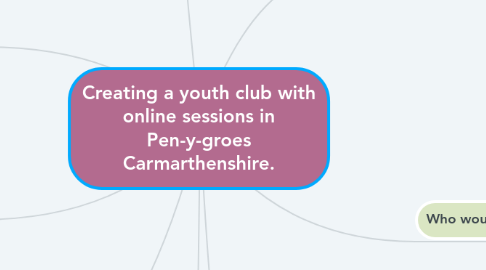 1. Why is there a need?
1.1. Current youth clubs available?
1.1.1. From looking at the Carmarthen County Council Website I found that there are currently seven youth clubs in operation. However none of these sit within the chosen community.
1.1.1.1. Can't they just travel?
1.1.1.1.1. By creating a new space young adults will be able to independently manage if they want to attend.
1.2. Why create a new space?
1.2.1. By creating a youth club within the chosen area, young adult would be able to attend sessions at the youth club without having to use public transport thus making it more accessible financially.
1.2.2. Having it in a local area will promote throroughfare from young people who would normally be meeting friends on the street.
2. Who would use it?
2.1. Young adults who felt the need or want to meet with others, develop new social skills or simply pass the time
2.2. Should be available to all between age 11 and 25. Inclusivity is the predominant message.
3. Funding needed?
3.1. Grants Available?
3.1.1. There is a funding available with the Local Youth Club Grant Scheme 2020.
3.2. Other sources of funding
3.2.1. The local community
3.2.2. Schemes such as "Tesco bags of Help"
3.2.3. Charitable Donations
4. Any concerns?
4.1. Lack of participation
4.1.1. A team would need to be established to ensure young people were aware of both the in person and online sessions.
4.2. Difficulties?
4.2.1. Ensuring every young persons thoughts are heard regarding the activities and support provided. Inclusivity is key
4.3. Bullying
4.3.1. Ensuring sessions are monitored to prevent any issues occurring between young people
5. Safeguarding considerations
5.1. Volunteers would need to gain a DBS certificate as they would be working with children
5.2. They would also need to undergo various training to ensure proper use and management of the online sessions
5.3. The sessions will provide the volunteers an insight into how young peoples mental health is and their home life, they will have a duty to be vigilant in reporting any concerns.
6. Covid19 and considerations needed.
6.1. Due to the risk socialising and mixing households currently, an online facility would allow sessions to continue in which a volunteer can monitor young adults socialising, and can be on hand to offer advice where needed.
6.2. Covid19 creates an isolation issue for young adults and mental health difficulties.
6.2.1. "The impact on mental health was usually related to an increase in loneliness and anxiety, and showed itself in different ways" (YoungMinds,2020)
6.2.2. An online support network may help this isssue.
7. How could this happen?
7.1. Funding would need to be found
7.2. Voluteers needed to run the youth club and online service
7.3. A central location would need to be found.
7.4. Computers would need to be sourced and the best online platform found for the online sessions.
8. Overall Vision
8.1. To create a safe supporting enviroment where young adults can come to meet to have fun and to pass the time. To keep them off the streets and in a place in which they can relax but also access the help they need.
8.2. To hold online sessions with activities using a system alike Zoom to ensure the support doesn't disappear during periods such as COVID19 or general sickness.
8.3. Name?
8.3.1. Thrive- A youth club promoting online socialising