First Aid
by Cristian Rivella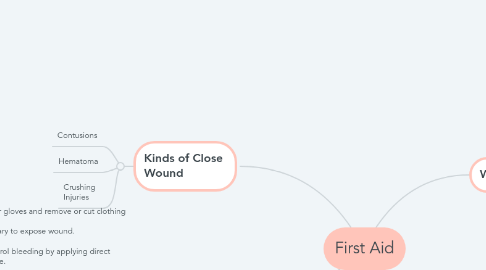 1. WOUND
1.1. an injury to living tissue caused by a cut, blow, or other impact, typically one in which the skin is cut or broken.
2. Kinds of Open Wound
2.1. Abrasion
2.2. Puncture
2.3. Incision
2.4. Penetration
2.5. Laceration -
2.6. Avulsion -
3. Kinds of Close Wound
3.1. Contusions
3.2. Hematoma
3.3. Crushing Injuries
4. FIRST AID
4.1. 1. Wear gloves and remove or cut clothing as necessary to expose wound. 2. Control bleeding by applying direct pressure. 3. Elevate the injured part above the heart except for eye injury and wounds with embedded object. 4. Cover wound with sterile dressing and bandage. 5. Care for shock. 6. consult a physician immediately.
5. RICE METHOD