HEAT LOSS FROM THE BODY
by AHAMED AAQIB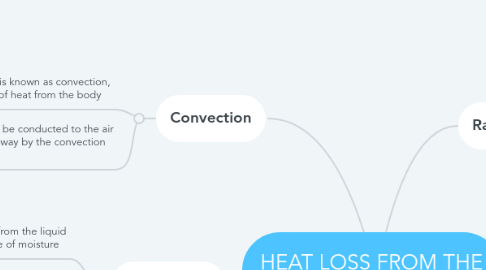 1. Evaporation
1.1. The conversion of water from the liquid state to the gaseous state of moisture
1.2. Water evaporates insensibly from the skin and lungs at a rate of about 600 ml per day
1.3. This causes continuous heat loss at a rate of 12 to 16 Calories per hour.
2. Radiation
2.1. Loss of heat by radiation means loss in the form of infrared heat rays
2.2. This loss increases as the temperature of the surrounding decreases, in comparisons to the body
2.3. A person in a room maintained at normal temperature losses about 60 percent of total heat loss by radiation
3. Conduction
3.1. The molecules that compose the skin of the body are continuously undergoing vibratory motion
3.2. About 3 percent of the total are lost from the body by direct conduction from the body to other objects
4. Convection
4.1. Movement of air is known as convection, and the removal of heat from the body
4.2. the heat must first be conducted to the air and then carried away by the convection currents.