Central Point Land - 7 acres, Zip Code 97502
by
Mark Lavin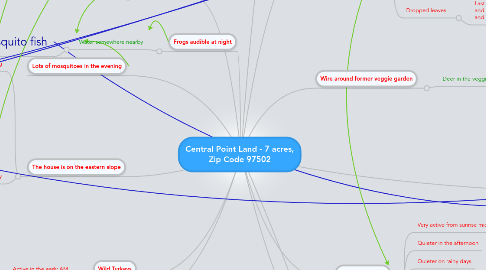 0.0
stars - reviews range from
0
to
5
Central Point Land - 7 acres, Zip Code 97502
A few pines around
Gambel Oaks
Fruit
Woodpeckers!
Dropped leaves
Lots of songbirds
Very active from sunrise mid morning
Quieter in the afternoon
Quieter on rainy days
Fill the existing birdfeeders with seeds that can grow and bring more plant diversity
The house is on the eastern slope
Gets warm in the morning
Holds heat all day
Wild Turkeys
Active in the early AM
Logging, clearcutting?
Lots of mosquitoes in the evening
Frogs audible at night
Water somewhere nearby
Well depth: 6 feet
Very high water table
Tall grasses at the bottom of the hill and in the valley
Some of the grass has been mowed to less than 6 inches
Desertification future scenario: flash floods, erosion, the land can't hold water and the ecology fades.
Wire around former veggie garden
Deer in the veggie garden!
Direct Observation
Conclusion from observation
Research
Solutions and Opportunities!