PARTICIPANT´S CHARACTERISTICS FOR E-LEARNING
by Odilvia Valdés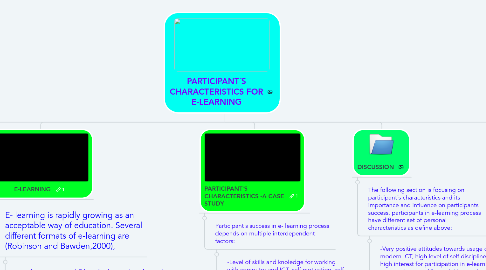 1. INTRODUCTION
1.1. Distance learning education is not a totally new concept(Robinson and Bawden,2002), and has been in existence for almost a century. E-learning typically involves the use of ICT and computers to support learning(Reymond,2000).
2. CONCLUSION
2.1. E-learning has become an important way of education. The research emphasized possible and probably most common participant´s characteristics wich are a basis for success in e-learning process.
3. DISCUSSION
3.1. The following section is focusing on participant´s characteristics and its importance and influence on participants success. participants in e-learning process have different set of personal characteristics as define above:
3.1.1. -Very positive attitudes towards usage of modern ICT, high level of self discipline, high interest for participation in e-learning process, low need for social interaction in peers.
3.1.1.1. Participants who have fewer prospects to succeed in e-learning process have mainly following personal characteristics:
3.1.1.1.1. Very negative attitude toward use of modern ICT, low level of skills and knowledge for working with modern ICT and computers, low level of self- discipline.
4. PARTICIPANT´S CHARACTERISTICS -A CASE STUDY
4.1. Participant´s success in e- learning process depends on multiple interdependent factors:
4.1.1. -Level of skills and knoledge for working with computer and ICT, self motivation, self discipline, good thinking skills, good problem solver, good time manager.
5. E-LEARNING
5.1. E- learning is rapidly growing as an acceptable way of education. Several different formats of e-learning are (Robinson and Bawden,2000),
5.1.1. -web supported,Blended or mixed mode e-learning, fully online e-learning format, flexibility, accessibility, own pace of study.
5.1.1.1. Benefit of e- learning are also for teachers and establishments(providers of e-learning) (Newman, 2008; E-learning guru, 2008).