8 forms of wealth
by Andrew Duggan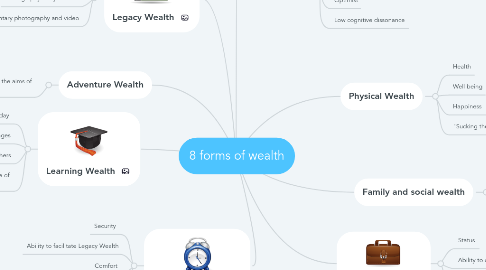 1. Inner Wealth
1.1. Self respect
1.2. Self esteem
1.3. Growth mindset
1.4. Optimist
1.5. Low cognitive dissonance
2. Physical Wealth
2.1. Health
2.2. Well being
2.3. Happiness
2.4. "Sucking the marrow out of life"
3. Family and social wealth
3.1. Safe space away from the rest of the world
3.2. Family time, separate from work, and valued separately.
4. Career Wealth
4.1. Status
4.2. Ability to direct change
4.3. Change of pace with age, how long will one teach?
5. Economic Wealth
5.1. Security
5.2. Ability to facilitate Legacy Wealth
5.3. Comfort
5.4. Reflection of status
5.5. Luxury
6. Adventure Wealth
6.1. Travel to facilitate the aims of Legacy Wealth
7. Legacy Wealth
7.1. Create a magazine
7.2. Photography body of work
7.3. Documentary photography and video
8. Learning Wealth
8.1. Every day is a school day
8.2. New times, new challenges
8.3. Expectations from others
8.4. P.D. provision, as well as being aware of best practice before others